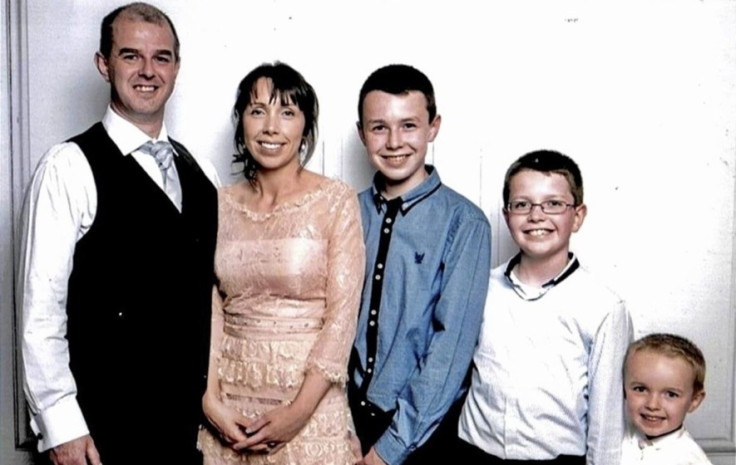 A teacher wrote a three-page letter explaining why he killed his wife and children with an axe, an inquest has heard.
In the handwritten note, Alan Hawe detailed why he killed his wife, Clodagh, 39, Liam, 14, Niall, 11, and six-year-old Ryan at their home in Co Cavan, Ireland, in August 2016. Hawe, 40, committed suicide after he slaughtered his family.
The deputy headteacher's note was not read in public at the two-day inquest into their deaths. It was passed to the coroner's jury.
The note is believed to have referred to his "fall from grace" as he faced the breakdown of his marriage and loss of his position as a "pillar of the community".
The jury yesterday (19 December) returned four verdicts of unlawful killing and a verdict of suicide in the case of Alan Hawe.
Police found his wife dead on a downstairs sofa in their house near Ballyjamesduff. The bodies of their children were found in beds upstairs.
They were butchered in a manner which left them unable to cry out for help, said Liam Keane, who spoke on behalf of Clodagh's mother, Mary Coll.
Clodagh was found in her pyjamas and dressing gown on the sitting room sofa. She had sustained axe and stab wounds.
The two older boys were found in their bedroom with knife wounds to their necks and throats. Six-year-old Ryan was also found in his bed with injuries to his neck.
The inquest heard how Hawe had hidden a long battle with mental illness.
Psychotherapist David McConnell told the coroner that he had given Hawe counselling on 10 occasions between March and June 2016.
Secret battle with mental illness
McConnell said that at the last session, Hawe told him: "People think of me as a pillar of the community." The teacher who worked at Castlerahan National School in Ballyjamesduff wept and added: "If only they knew."
Professor Harry Kennedy was asked by the coroner to review the available medical notes on Hawe and carry out a "psychiatric post-mortem".
He concluded that the teacher had suffered from a long-standing depressive illness, which progressed to a severe depressive episode with psychotic symptoms.
Kennedy said: "In general terms in a depressive illness and severe depressive illness, people often seize on some item that's going on in their lives that then becomes distorted and blown out of proportion as a result of the illness."
But family doctor Paula McKevitt said she was not aware that Hawe had been seeing a counsellor. The deceased never mentioned it, she said.
The last time she saw Hawe was in July last year when he complained about feeling run down and not sleeping well. He told her he was stressed about a conflict at work.
Hawe's parents, Stephen and Olive Hawe, said: "Last August we received news no family should ever have to hear. In one night we lost three beautiful grandchildren, a beloved daughter-in-law and our son Alan.
"Death's dark door opened and we have struggled over the last 16 months to comprehend how this came to pass."