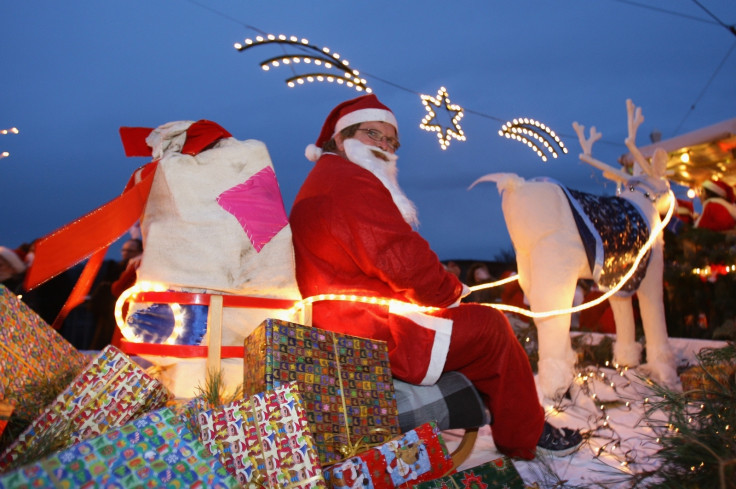 It's time to celebrate the festivities and spread the joy as Christmas is here. The special day marks the birth of Jesus Christ and to commemorate the special occasion, families put up Christmas trees and decorate them with colourful twinkling lights.
The tradition of gifting is another vital part of the holiday season and Children expect Santa Claus to drop presents in their stockings on Christmas Eve which they will unwrap the next morning.
No Christmas is complete without gorging on the delicacies made specifically on the day. Families gather during Christmas Eve to enjoy, roasted turkeys, cake, pumpkin pie, gingerbread and yams among others.
To celebrate the festivities, IBTimes UK has compiled ten quotes to share with family and friends on the day.
1. "Christmas was on its way. Lovely, glorious, beautiful Christmas, upon which the entire kid year revolved." – A Christmas Story
2. "T'was the night before Christmas, when all through the house, not a creature was stirring, not even a mouse." - Clement Clarke Moore, A Visit from St. Nicholas
3. "A good conscience is a continual Christmas." - Benjamin Franklin
4. "Seeing is believing, but sometimes the most real things in the world are the things we can't see" – The Polar Express
5. "Then the Grinch thought of something he hadn't before! What if Christmas, he thought, doesn't come from a store. What if Christmas...perhaps...means a little bit more!" – Dr. Seuss, How the Grinch Stole Christmas
6. "Christmas is the perfect time to celebrate the love of God and family and to create memories that will last forever. Jesus is God's perfect, indescribable gift. The amazing thing is that not only are we able to receive this gift, but we are able to share it with others on Christmas and every other day of the year." – Joel Osteen
7. "There's a certain magic that comes with the very first snow. for when the first snow is also a Christmas snow, well, something wonderful is bound to happen." – Frosty The Snowman
8. "Christmas is joy, religious joy, an inner joy of light and peace." – Pope Francis
9. "Christmas is the spirit of giving without a thought of getting. It is happiness because we see the joy in people. It is forgetting self and finding time for others. It is discarding the meaningless and stressing the true values." – Thomas S. Monson
10. "Like snowflakes, my Christmas memories gather and dance – each beautiful, unique and too soon gone." – Deborah Whipp
Five messages to share with friend and families:
1. You make the stars shine brighter and the winter days warmer just by being in my life. Merry Christmas to my favourite person in the world.
2. Snowing galore, colourful bells ringing. Angels with white wings gathered chiming. Singing in the chorus, as they must. Wishing you peace, joy and a blissful Merry Christmas
3. Burnished Jingle bells ringing in tune. Santa Clause will be coming soon. Bask in Xmas glory because 'Tis the season. Relish, gorge on and spend lavishly, with greater reason.
4. With mistletoe hung for all to see. Rocking round the Christmas tree. Carols bring joy and cheer. Hope and faith in every prayer. Merry Christmas dear.
5. Christmas is about spending time with family and friends. It's about creating happy memories that will last a lifetime. Merry Christmas to you and your family!