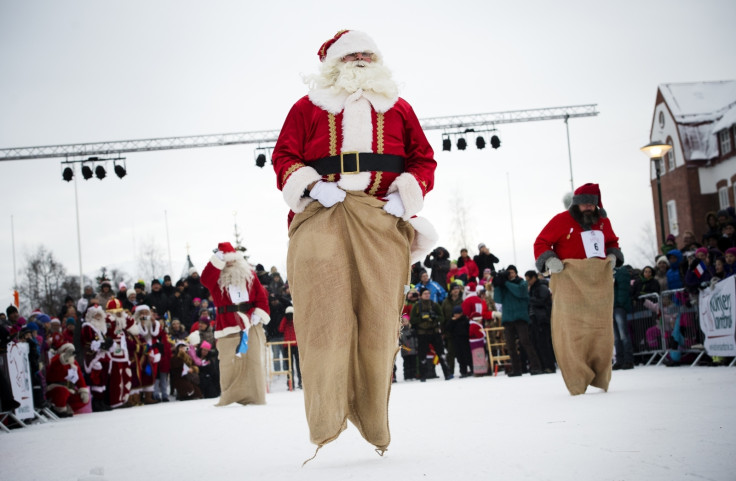 Christmas is officially cancelled – at least in one part of Lapland. Santa Clauses from around the world usually gather in Swedish Lapland each winter for a fight to be crowned the ultimate Father Christmas. However, the games are off this December for the first time in 14 years.
Multiple ongoing development projects in Gällivare, a small mining town about 100 kilometres north of the Arctic Circle, means the grand Santa Winter Games competition would be tricky to organise this year. The global festive event has been running since 2003.
The Santa Winter Games normally involves competitors from as far around the world as China, Estonia and Colombia. They take part in unique events including Christmas tree dressing, present wrapping, reindeer lasso-throwing, porridge eating, Christmas karaoke, and a dance-off, with the overall winner crowned Santa of the Year.
The event usually begins with a parade to Gällivare's main square, before the sports begin on streets flooded with red-suited and white-bearded men. In 2016, Santa of the Year was from Sweden, the first hometown victor in the event's history, while second and third places were taken by Old Saint Nicks from China and Hong Kong, respectively.
This year, the most Santas you will see gathered in one place in the town will be 15. They can be visited in traditional Lapland log cabins to mark Winter Wonderland Weekend from 24-25 November.
According to broadcaster SVT, three Chinese Santas will also travel to Gällivare for the occasion after they contacted organisers asking if they could still visit despite the Santa Winter Games being cancelled.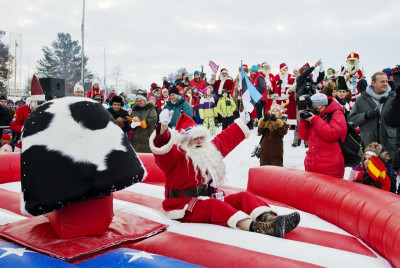 Gällivare is around 90 kilometres from Jokkmokk, also in the Swedish province of Lapland, which researchers last year decided would be the most strategic location for Santa Claus to live – not, as is traditionally thought, the North Pole or Finnish Lapland.
Lund University's geography department calculated the mean centre of the earth's population using satellite images and found that Jokkmokk would be the most efficient place from which Santa could distribute his presents. Ola Hall explained: "The result can seem surprising, but when you look at a globe you understand it better. The notion that Santa would live somewhere near the North Pole isn't completely wrong."
However, Santa would likely need to move house often if he were to keep pace with changing population distribution. In the 1990s, Norwegian island Jan Mayen would have been a more useful location for his elves to be based.