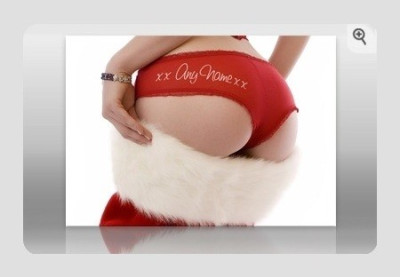 As Christmas draws near, why not spice things up over the festive season by treating the special lady in your life to the gift that keeps on giving, lingerie.
While it may not be the most obvious present that comes to mind, if done right, it can be a great way to express your affection. From provocative to luxurious, lingerie is an intimate present that you and your partner can both enjoy.
Whether you opt for silk or a lacy little number, we show you how to do lingerie right. Just follow our simple tips to guarantee that your saucy declaration of love does not end up causing you any embarrassing or awkward moments this Christmas.
Tip Number 1: Find Out Her Size
(This is the single most important factor when buying lingerie)
The size of a woman's underwear can be a minefield, but you can avoid the situation turning into a disaster by knowing her size in advance.
If you are unsure about her size, why not play detective and make it your mission to find out. One good way to establish her size is by taking a peek in her lingerie drawer. You can also ask her if she needs any help while getting dressed or, if you are really desperate, you can always turn to one of her close friends for advice.
Getting the right size can make the difference between having a night of passion versus spending the night on the sofa.
Tip Number 2: Choose Something Tasteful

Another important tip to remember is that, even though you will be also enjoying the lingerie, it is a gift for her. It therefore needs to be something that she will feel comfortable wearing. So resist the urge to go crazy and buy something that tickles your fantasies.
While women like to look sexy, keep in the back of your mind that they also love luxurious and sophisticated lingerie. Traditional colours, such as black, red and white, are huge favourites when buying lingerie, so play it safe.
Tip Number 3: Don't Be Afraid To Ask For Help
Department stores and lingerie shops can be daunting, so do not be afraid to ask for help once you get there. Most stores have sales consultants available to offer assistance, so take advantage of this service, but do not ask them to try things on for you. They will be more than happy to help you, whether it is to get a second opinion, to confirm you have the right size or to make sure that she can exchange it if she does not like it.
If you still feel lost, here are a few gifts ideas to get you started...