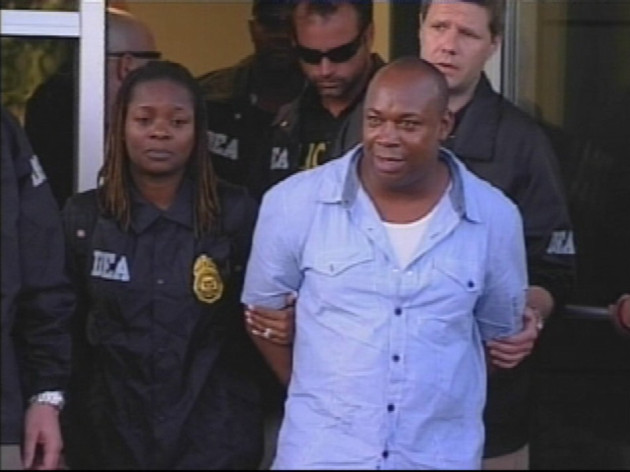 Notorious drug baron Christopher 'Dudus' Coke is due to be sentenced after pleading guilty to trafficking three tonnes of marijuana and 30lbs of cocaine into America.
After running a global drug and trafficking scheme from the Jamaica capital of Kingston, Coke, 42, now faces up to 23 years in prison having previously being protected from extradition by authorities for years.
At the highlight of his Jamaican drug reign, police were not able to enter his neighbourhood in Kingston without his permission, local residents referred to him as 'President' and Jamaica's former national security minister, Peter Philips, described him as probably the most powerful man in the country.
In June 2010, he was arrested after a five-week manhunt, including a bloody four-day battle between his loyal supporters and security forces, resulting in the death of more than 70 people.
Coke's progress to becoming Jamaica's most notorious criminal started when he took over from his father as the leader of the Shower Posse, a feared gang who were blamed for more than 1,000 murders during the 1980s and got their name because they were known to "shower" neighbourhoods with bullets.
Coke's father Lester, also known as Jim Brown, died in a mysterious fire in prison while he was also awaiting extradition to the US for drug and murder charges. Suspicions were raised about the fire as it occurred on the same day as the funeral of Mark Coke, Dudus's brother.
Once he became leader of the Shower Posse, Coke expanded upon his father's reign and developed legitimate businesses, while simultaneously trafficking guns, cocaine and marijuana between Jamaica and US.
For years, Coke was able to run his operation with relevant protection in Tivoli Gardens, a western district of Kingston, which was the Shower Posse's heartland. Authorities had for years blocked his extradition, arguable because Coke used his influence to harbour votes for Jamaica's prime minister, Bruce Golding, although Golding has always denied links to Coke.
Despite US authorities labelling Coke one of the most dangerous narcotic barons in the world, many people in his hometown respect and revere him as a patriotic man who used his great wealth to invest in Kingston's impoverished communities, helping families and bankrolling their children's education.
In May 2010, the Jamaican government finally bowed to pressure from the US and agreed to extradite him to face charged of trafficking.
Following the news, Shower Posse members and other Coke supporters began attacking police stations in Tivoli Gardens in an effort to prevent his extradition and keep him out of jail.
The ensuing violence led to Jamaica declaring a state of emergency , prompting the army to be called in to battle with the fighting rebels. The fighting left 74 people dead, one soldier and 73 civilians who were caught up in the crossfire.
After he was finally caught a few weeks after the fighting erupted, Coke was extradited to New York and put in front of a judge on charges of trafficking and ordering the stabbing of a New York drug dealer.
"I'm pleading guilty because I am," said Coke, giving a guilty plea which would save him from a life sentence.