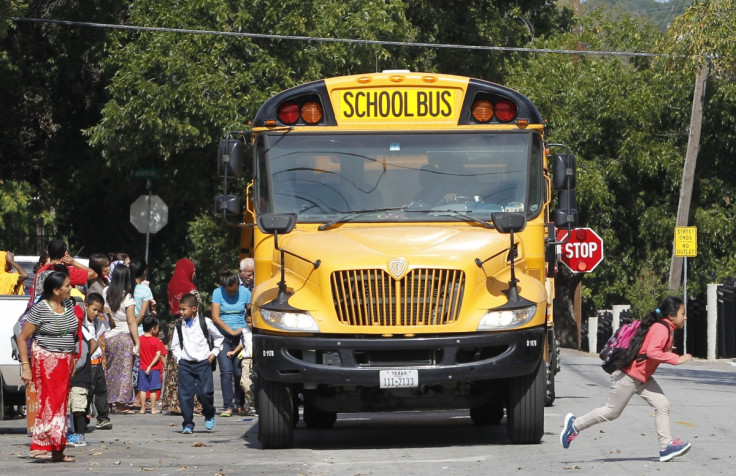 The CIA left "explosive training material" in the engine compartment of a Virginia school bus after a training exercise last week, CIA and Loudoun County officials said. That bus was then used to transport elementary and high school students to and from school on 28 and 29 March with the material still under the hood of the bus.
The CIA and Loudoun County Sherrif's Office released a statement on 31 March revealing that the explosive material was left behind following a training exercise at Briar Woods High School for explosives-detecting dogs from 21 to 24 March.
"During the exercise, explosive training material was inadvertently left by the CIA K-9 unit in one of the buses used in the exercise," the CIA said in a statement, according to Fox News. CIA officials said that the material "did not pose a danger to passengers on the bus".
According to The Washington Post, Loudoun schools spokesman Wayde Byard told reporters the CIA revealed the nature of the material but requested the school system to not disclose it. Byard then described the material as "putty-type" material requiring a special detonator and used on the battlefield.
Byard said that as part of the training exercise, CIA trainers placed explosive material into the engine compartment of a school bus and in parts of the school. The spokesman said the canine successfully found the material in the engine compartment, but some of the material fell and became stuck beneath the bus' hoses.
School bus drivers check under the hoods of their buses before they depart, but the material was too far into the engine compartment and was the same colour as the hoses and could not be seen easily, Byard said. The bus made eight runs totaling 145 miles and carrying 26 students from Rock Ridge High School, Buffalo Trail Elementary School and Pinebrook Elementary School, The Post reported.
A technician discovered the explosive material during a routine inspection on 30 March. The school system then notified the county sheriff's office and the fire marshal, who along with the CIA removed it.
"The training materials used in the exercises are incredibly stable and according to the CIA and Loudoun County explosive experts, the students on the bus were not in any danger from the training material," the Sheriff's Office said in a statement. All other buses as the school were check as a precaution.
School officials met with the CIA, Loudoun County Sheriff's Office, the fire marshal and county administrators on 31 March, the Post reported. It was decided that training exercises at schools be suspended until officials established stronger protocols.
"We're all very upset by what happened, but we're going to review everything that did happen," Byard said. "Obviously we're concerned. The CIA really expressed its deep concern and regret today, and it was sincere." In a statement, the CIA said all training explosives had been accounted for during a full inventory on 31 March.