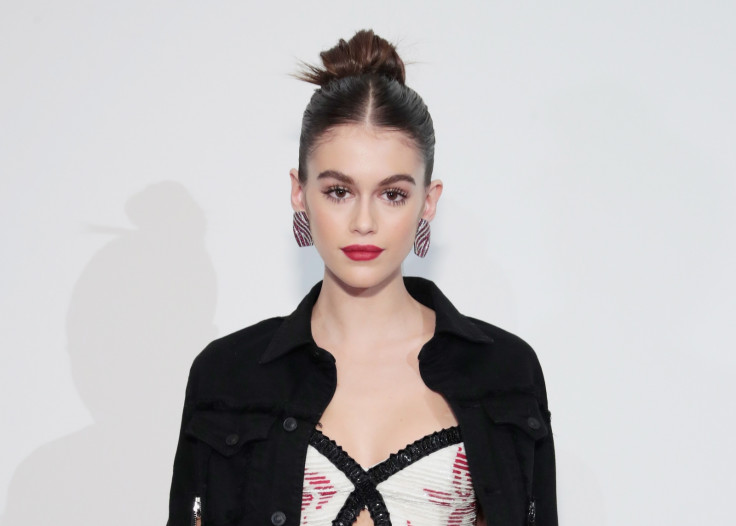 Supermodel Cindy Crawford's daughter Kaia Gerber seems to be making the most of the winter sunshine in Los Angeles. The 16-year-old model posted a photo of herself, soaking the sun, in a bright orange swimsuit on Instagram and fans are wowed by her stunning looks.
The deep neck outfit highlighted the teenager's slender figure as she kept her look natural and wore her brunette locks loose in a half mini-knot. "Rise and shine," she wrote in the caption for her 2.5 million followers.
Gerber — who made her catwalk debut at the New York Fashion Week earlier this year — is already a hit among her fans, with the Instagram post receiving 312,443 likes in just a few hours.
One user commented, "You're perfection," another noted, "Wow you look outstanding and so gorgeous." A user asked, "Girl, how can you get a color to look so good on you ?"
Another fan pointed out, "Wow all grown up, not a little girl anymore," as someone else cheekily wrote, "WOW!! This photo blewwwww me awayyyy."
Some compared her to her model mum, Crawford, and said, "You look just like your stunning mother!!" Another too echoed similar sentiments and noted, "She just has broad shoulders like her mom.. dang"
The teenager raised a lot of eyebrows after making her runway debut at the age of 16 and her mother weighed in on the controversy, back in October. "My daughter just got her driver's licence. I'm a lot more concerned about her driving by herself than her entering the world of modelling," Crawford told Associated Press at the time.
Crawford, whose elder son 18-year-old Presley is also a model, went on to explain that her children always have her for guidance. "The great thing for my kids is that I know a lot about that world. I feel like: Who better to help guide them than me?" she said.
As for the controversy surrounding Kaia's age, who just turned 16 before walking for her first show, the mother-of-two reasoned that in fashion it's "normal" to begin young. The 51-year-old veteran said, "In some ways, I wish I could have pushed it off a year or two. But she's 16. That's how old I was when I started, which is young, but in fashion, that's kind of the normal age when people start."