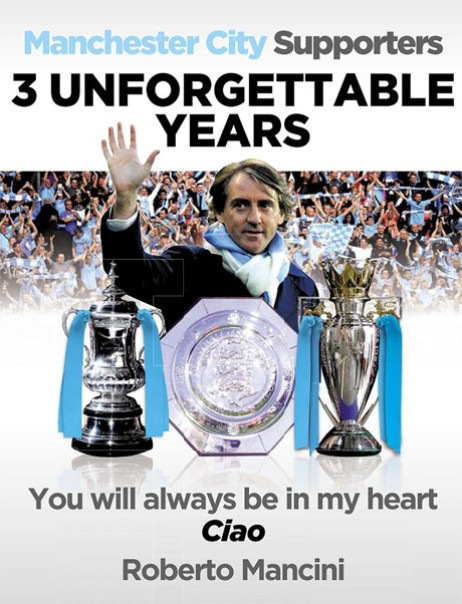 Sacked Manchester City manager Roberto Mancini has taken out a full-page advertisement in the Manchester Evening News to thank City fans for their backing during his three-year tenure at the club.
Mancini, who was appointed City manager in place of Mark Hughes in December 2009, won the hearts of City fans by breaking the club's 35-year trophy drought when he led the team to the FA Cup in 2011.
In 2012 City were crowned champions of England for the first time since 1968, and they defeated Chelsea to take the FA Community Shield at the start of the current season.
Although adored by many fans, Mancini was reportedly a less popular figure with some of the players and backroom staff at the club. According to an article in the Daily Mail, some City players saw Mancini's dismissal as consolation for losing to Wigan Athletic in the 2013 FA Cup final.
Mancini's sacking was confirmed by City on Monday 13 May, two days after that final defeat. In a statement, the club said: "The Club has failed to achieve any of its stated targets this year, with the exception of qualification for next season's UEFA Champions League. This, combined with an identified need to develop a holistic approach to all aspects of football at the Club, has meant that the decision has been taken to find a new manager for the 2013/14 season and beyond."
While City continue in their quest to sign manager Manuel Pelligrini from La Liga side Malaga, Mancini is already being linked with a return to management at Napoli or Monaco.
Manchester City fans are said to be considering paying for a full-page advertisement in the Italian Gazzetta dello Sport to reciprocate Mancini's gesture and thank him for his work at City.