The Citymapper public transport route planner app is to begin its own bus service in central London, starting 9 May. The trial will run for two days and is free for all.
Citymapper's bus route, called CMX1, will run between Waterloo Bridge and Blackfriars Bridge, close to the company's office and in one of the busiest parts of central London.
The company will use a regular-sized single-decker bus and a smaller vehicle (pictured above) on the experimental route. Both are painted green to match the company's smartphone app, and include USB charging ports for all passengers.
The buses can be tracked by the Citymapper app in real time, count how many passengers are on board at every stop, and include an app for the driver, accessed via a tablet by the steering wheel.
Citymapper said in a Medium post: "We're reinventing the entire software stack for running and operating a bus. We believe smarter buses lead to better mobility and cities."
The company added: "We built software for everything, including real time operational control to driver management to scheduling systems. We're reinventing how to think about all of these in the real time world. We've taken systems that haven't traditionally talked to each other and integrated them."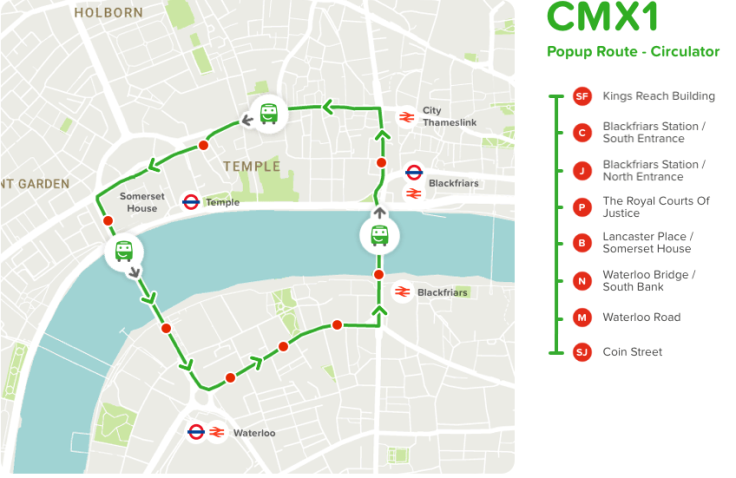 Citymapper says it will eventually "rethink" how buses operate in busy cities like London, and work out how to make the routes more efficient and useful. The company feels buses "haven't evolved enough...[and] they will roam around cities utilising old systems of operations and inefficient technology. If we're going to solve urgent problems of congestion and infrastructure, we need buses to improve, to operate smarter. In the era of smartphones we can have responsive buses that react to real time needs."
The trial is being run in "coordination" with Transport for London, but Citymapper is clear in its larger goal beyond the initial trial. "We feel the best way to build software for buses is to run buses ourselves...Reinventing the bus is crucial for the future of our congested cities and infrastructure."