At least 21 people were arrested after clashes broke out in Berkeley, California, between pro- and anti-Trump protesters. It was the third time the two sides were involved in violence since President Donald Trump took charge.
Rallies in Berkeley were part of wider nationwide protests at more than 150 locations demanding that Trump disclose his tax returns. Despite strong criticism, Trump has rejected calls for releasing his tax returns – a long-held tradition among American presidents - though it is not legally binding. The campaign coincides with the US' mid-April tax filing deadline.
"A large number of fights have occurred and numerous fireworks have been thrown in the crowds. There have also been numerous reports of pepper spray being used in the crowd," Berkeley police said in a statement. Some of the detainees were held for suspected assault using a deadly weapon, said the police. Prohibited items such as knives, stun guns, and flagpoles were confiscated from the protesters.
The protesters hurled stones and sticks at each other. Hundreds of police personnel were deployed at the scene as fistfights broke out between the groups.
Close to 11 people were injured in the skirmishes and some of them were taken to hospital for treatment. The violence erupted when anti-Trump campaigners showed up at a rally of Trump supporters, who were holding a march to mark "Patriot Day".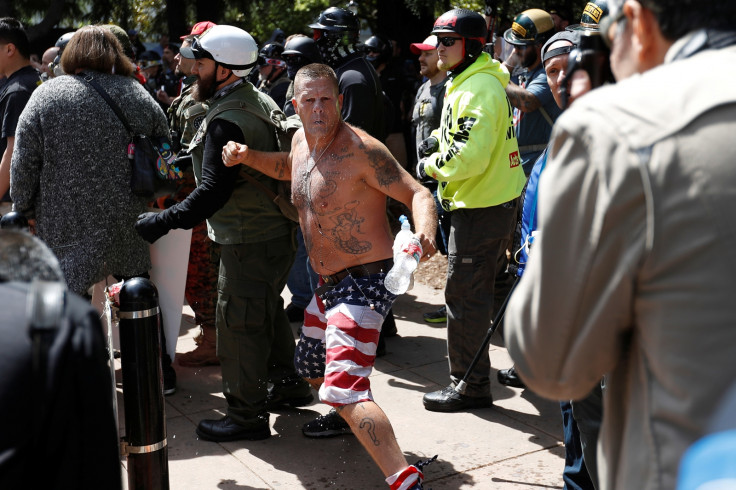 Though barricades were erected to separate the rival groups gathered at the Civic Center Park, the rallies quickly spilled out into the streets. Personnel from the neighbouring Oakland Police Department were sent as reinforcements.
"These people create violence all the time... somebody has to stand up to them. You've earned your stripes, bro," A J Alegria, a 31-year-old Trump supporter who was among the injured in Berkeley, told the LA Times.
An anti-Trump protester named Geoff Millard said the rallies by pro-Trump campaigners were meant to intimidate the other side. He was quoted as saying: "They picked Berkeley because they want to feel they could do this in the most liberal place in the country. It's important that we shut them down and let them know they can't pull this crap here."
Berkeley has witnessed large-scale protests in the recent past and scuffles broke out at some of the previous rallies as well.