While Attorney General nominee Jeff Sessions was being grilled on his racial sensitivity and President-elect Donald Trump made his way through a confrontational press conference, prospective Secretary of State Rex Tillerson was questioned by senators ahead of his possible confirmation.
One notable thing about Tillerson's hearing on Wednesday (11 January) was his professed lack of knowledge. The former ExxonMobil CEO batted away a number of questions by saying he would want to be better informed before giving answers. This also took part in his surprising clash with Republican senator Marco Rubio, who later refused to tell press whether or not he would be voting to confirm Tillerson.
Here are the main takeaways from Tillerson's hearing:
Climate change
While the protesters at Sessions' hearing focused on accusations of racism, Tillerson's hearing mostly stopped as environmental protesters were escorted out.
When asked, the former head of an oil giant would not say whether humans played a role in climate change, admitting that an increase in greenhouse gases have an effect but "our ability to predict that effect is very limited".
Asked whether ExxonMobil knew about the science behind climate change but chose to fund denial efforts instead, Tillerson said senators would have to ask Exxon. Tim Kaine followed up, asking: "Do you lack the knowledge to answer my question or are you refusing to answer my question?"
"A little of both," Tillerson replied.
Russia
"Russia today poses a danger but it is not unpredictable in advancing its own interest... our Nato allies are right to be alarmed at a resurgent Russia," Tillerson said, starting off on a strong message for the country accused of attempting to influence the US election through cyber attacks.
But it did not continue on quite such a strong footing, with Tillerson saying at one point that he and Trump are yet to discuss Russia, to the amazement of the questioning senator.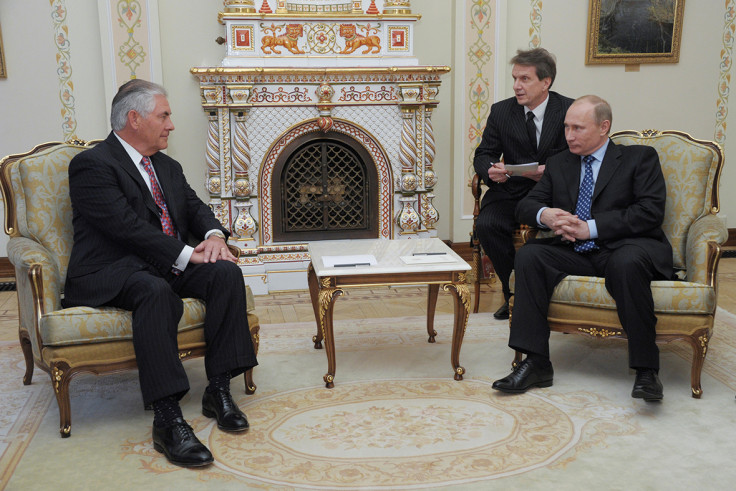 In a surprising confrontation which saw Republican senator Marco Rubio get heated in his questioning, Tillerson refused to call Vladimir Putin a "war criminal".
"I would not use that term" Tillerson said, leading Rubio to remark that it was "discouraging" that Tillerson could not cite Putin's actions in Aleppo.
Iran nuclear deal
Tillerson said that the Iran deal should be "reviewed", but did not say he would wholly reject it. His concern, he seemed to say, was rather with whether Iran is holding up its end of the bargain. Tillerson said he wants to "examine our ability to clarify whether Iran is complying".
Lobbying
Another more heated moment came for Tilleron as he was grilled on whether or not he had lobbied against sanctions for Russia. Tillerson said he had not lobbied on sanctions "personally" and said that "to my knowledge, Exxon never directly lobbied against sanctions."
One senator said that Tillerson had made phone calls to senators about sanctions and another produced documents showing that ExxonMobil had hired lobbyists to oppose sanctions. Tillerson said that lobbying had been about Exxon having more time to pull out operations before the sanctions, not the sanctions themselves.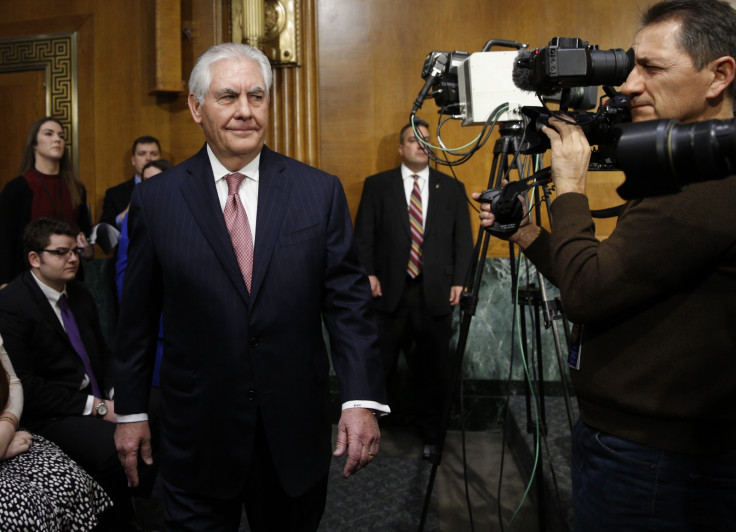 "If you are calling a United States Senator on the phone to express your belief that sanctions that would affect your company would be ineffective, it likely constitutes lobbying," Senator Christopher Murphy said.
Differences with Trump
Some noted that Tillerson took a few different tacks to his possible future boss, Donald Trump. On the Iran deal, he was more reserved in his criticism; on Russia, he seemed more confrontational; and where Trump had said he would not mind if some allies acquired nuclear weapons, Tillerson said: "I do not agree."