Clinton holds strong in final presidential debate as Trump puts in his best performance yet
The pair clashed over key issues including abortion and Isis.
Presidential nominees Donald Trump and Hillary Clinton turned out for a final battle on Wednesday (19 October) to deliver an insightful debate before the 8 November election.
The rivals discussed key issues while attempting to avoid the scandals that have plagued their campaigns, including the nearly dozen sexual assault allegations lobbied against Trump and the WikiLeaks release of emails from Clinton's campaign director.
The debate, moderated by Fox News' Chris Wallace, quickly delved into the issue of the Supreme Court, with Clinton kicking off by arguing in favour of a Supreme Court that would stand up for citizen's rights.
The former secretary of state voiced her support for gay marriage and abortion as per the Roe v Wade decision. Clinton also expressed hopes that the Senate will move forward with the nomination process to fill the vacancy left by the death of Justice Antonin Scalia earlier this year.
Republicans have been adamant that they will not approve any of President Obama's nominees until the next president takes office. However, Arizona Senator John McCain recently promised Senate Republicans would block any SCOTUS nominee brought up by a possible President Clinton.
Meanwhile, Trump promised his nominees would be conservative judges who would protect the Second Amendment.
The GOP nominee, who has been endorsed by the National Rifle Association, claimed Clinton would abolish the right to bear arms. Clinton argued she supports the Second Amendment and will protect it, but also supports sensible gun control legislation.
The two candidates also discussed the controversial issue of abortion, with Clinton saying that she will not only defend a woman's right to choose but will help protect Planned Parenthood. However, Trump, who is pro-life, said he would get rid of Roe v Wade and let states decide whether abortion is legal – a stance that plays well with conservative Christian voters.
The second topic on immigration also gave Trump an opportunity to speak to conservative voters, who are generally not keen on an amnesty for undocumented immigrants.
In contrast, Clinton stated she had spoken with children on the campaign trail who lived in fear of their parents being forced to leave the country and spoke out in favour of amnesty – a topic that tends to polarise voters.
The GOP nominee also reiterated his commitment to building a wall on the country's southern border, once again suggesting criminals were being allowed to enter the country and slamming suggestions of an amnesty for undocumented immigrants.
"Drugs are pouring in through the border, we have no country if we have no border," he said, explaining there were four women in the audience whose children had been killed by people who entered the country illegally.
"We have some bad hombres here and we are going to get them out," he said, immediately promoting a twitter reaction, with many people claiming the comment was racist and others mocking the GOP nominee's choice of language.
Trump also pulled in an immediate reaction when he suggested during the topic "fitness to be president" that he may not accept the results of the November election - reiterating claims he believes the voting will be rigged due to biased media and a failing system.
He refused to state whether or not he would accept the result of the election, explaining he would keep people guessing and adding he would comment at the time, although his campaign team suggested after the debate that this was not the case.
As talk turned to the economy, the candidates revealed opposing plans to improve jobs, taxes and the national debt. Clinton took a domestic look at the economy, arguing in favour of equal pay for women, debt-free college and higher taxes for the wealthy and corporations, referring to Trump's economic plan as "trickle down economics on steroids".
Trump, meanwhile, took an international view of the economy, blaming problems with the nation's economy on bad economic and security deals with external countries. The GOP nominee said he would create "great deals" with foreign governments that would benefit the US.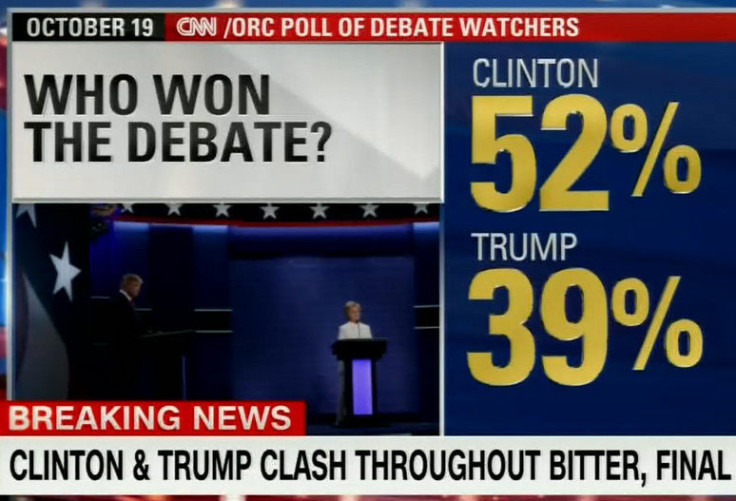 CNN's early polling after the third and final debate showed Clinton favoured by viewers
Screenshot
The pair were also different on their approach to national debt, although officials believe neither candidate's proposals are set to reduce it. While Clinton promised to protect medicare and benefits, Trump promised to slash taxes and repeal Obamacare, calling it a disaster.
In one of the most anticipated moments of the evening, the candidates were asked about the recent allegations of assault against Trump and Clinton's husband, former president Bill Clinton.
Trump, for his part, denied the claims by nine women that he attempted to grope or kiss them without their permission.
"I believe it was her campaign that did it," Trump said of the allegations, adding he believed her campaign also incited violence at one of his rallies in Chicago.
"These women... I think they wanted either fame or her campaign did it."
Although Clinton addressed the allegations made against Trump, stating her opponent belittled women in order to make him feel bigger, she chose not to address the allegations made against her husband – the second time she avoided the subject in a debate – and was not pressed by the moderator to elaborate.
Perhaps one of the biggest topics of the night was foreign hotspots. The candidates were asked about the ongoing Iraqi offensive to reclaim Mosul from Islamic State (Isis) control. Clinton noted she will not support placing boots on the ground if Iraq is successful in pushing out Isis (Daesh) out of Mosul and into Syria.
The debate finished on what the moderator described as "positive note", with each candidate given a minute to explain why they deserved the public's vote.
© Copyright IBTimes 2023. All rights reserved.