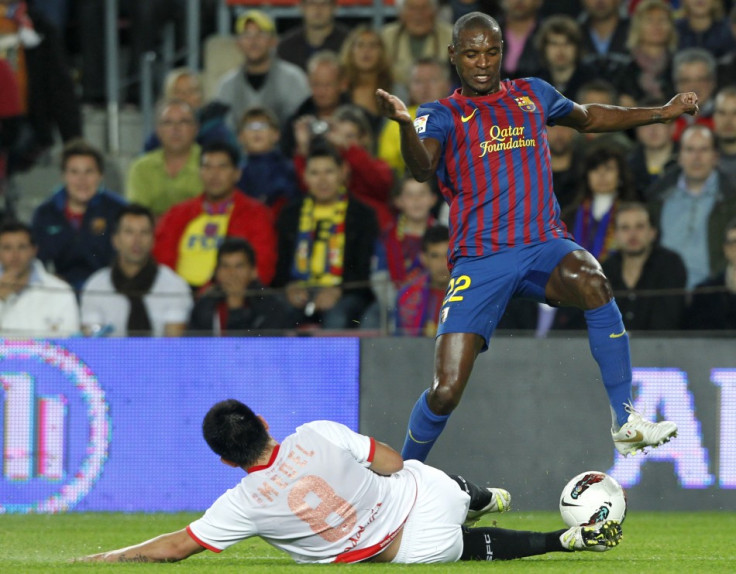 Arsenal have been boosted in their pursuit of Eric Abidal, with the Barcelona defender's agent revealing that contract talks are still stalling with the Catalan side.
Abidal is in the last season of his current contract with Barcelona, and while the club supported the France international during his illness spell last season, David Venditelli believes that certain standards have to be met in his new deal in order for an agreement to be reached.
And with Arsenal and Manchester United said to be targeting Abidal, both clubs will no doubt be on alert as he mulls over his future.
"We want a permanent contract without variables. Not because of economic issues but more to show recognition and confidence in Abidal," Venditelli told COM Radio.
"Although they have behaved exceptionally with us, we are entitled to have our desires on the new contract.
"We have a very good relationship with the club, but we have not yet found the solution. It is true that as time passes, the risk increases of Abidal leaving Barcelona."
United know first-hand what a good quality player Abidal is; he was one of Barca's most influential players in the Champions League final that United lost 3-1 to last May.
And Arsenal have long been tracking Abidal as well, as the Gunners aim to build on their defensive line-up. Arsene Wenger purchased Per Mertesacker and Andre Santos in the last transfer window to work on the side's backline, but neither have set the Premier League alight, with Santos in particular struggling to keep up with the pace of the English game.
Wenger has denied that a defensive signing is on Arsenal's agenda for January, but the north London side are facing tough competition for a place in next season's Champions League, and with five goals scored against them in their last five games, the club will be looking to shore up the gaps in their defence to challenge for trophies.
United have a bigger transfer budget than Arsenal though, and are able to pay higher wages on top of that. And with Abidal used to playing in the Champions League, if the Gunners are still tunsure over their qualification for the tournament, United might have the advantage over their rivals to secure the 32-year-old.