Donald Trump's shock White House victory and the Brexit vote in the UK was a political and corporate failure, Jeremy Corbyn told a group of business leaders on Monday (21 November).
The Labour leader made the comments as he addressed the Confederation of British Industry's (CBI) annual conference in central London.
Corbyn also outlined his vision for "good and bad" government intervention.
"What we have seen in Britain, the US and elsewhere is the rejection of a failed economic consensus and a governing elite which has not listened," he said.
"This is a corporate as well as a political failure. And after the latest global wake-up call from the US the need for a real alternative to a failed economic and political system could not be clearer.
"So those of us who want to see an open, tolerant, more prosperous Britain must make common cause in the battle for that future for our country. It's a future that must be based on us working together to achieve social justice and economic renewal rather than sowing fear and division."
He added: "I believe when it comes to government there's bad intervention and good intervention. Bad intervention wants to name and shame you on the basis of how many foreign workers you employ.
"Bad intervention wants to punish you with a shambolic Brexit that limits our ability to trade with the world's largest trading bloc on our doorstep."
The Labour leader re-confirmed that his party supports for full, tariff-free access to the EU's single-market, warning that any other option would "close the door" on an open economy.
'Race to the bottom'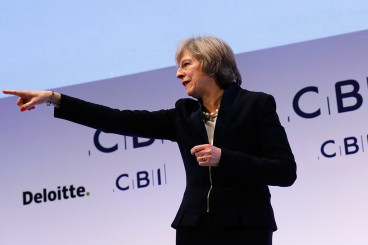 Corbyn, who spoke hours after Theresa May addressed the same conference, attacked the prime minister for promising to keep the UK's corporation tax rate – currently at 20% and due to fall to 17% by 2020 – the lowest among the G20 economies.
"The prime minister's suggestion that Britain should chase after Donald Trump, in a race to the bottom in corporation tax, to 15% or below, is reckless short-term grandstanding," he said.
"That would do nothing to bolster the long-term investment we all need or to raise productivity or boost innovation, and would undermine the rebuilding of our economy on which our prosperity depends."
The left-winger said a Labour government under his leadership would increase corporation tax in a bid to pay for more infrastructure spending, while he promised to abolish "exploitative" zero-hours contracts.
"There'll be no more poverty pay for those in work. We'll raise the minimum wage to £10 an hour by 2020," he said.
"And we'll make sure businesses, including small businesses, are supported to deliver those goals in a sustainable way.
"The challenge of Brexit and cutting-edge technology, especially from the Gig Economy, throws up both problems and opportunities."
Corbyn, who spoke for more than half an hour and draw applause from the CBI delegates at end of his speech, stressed that Labour was open.
"We're open to change. Open to new ideas. And open to working with you," Corbyn said.
"In return, we ask you to be open, to listening to the workforce, in the boardroom as well as the shopfloor.
"Open to investing in Britain, and paying a bit more corporation tax to make this country more productive and fairer, so that you'll get a return on your investment."
Carolyn Fairbairn, the director-general of the CBI, said in reaction to Corbyn's speech: "Businesses are clear that maintaining tariff and barrier-free access to the single market will be vital for their future success.
"Small businesses need access to a diverse range of funding, and the British Business Bank is already having a positive impact in this area, so any new sources of finance would need to build on existing efforts.
"Education and skills are the bedrock of productivity growth, so businesses will welcome innovative approaches to building capacity that will help to mitigate skills shortages."