Cologne sex attacks: Far-right Pegida protesters clash with police in Leipzig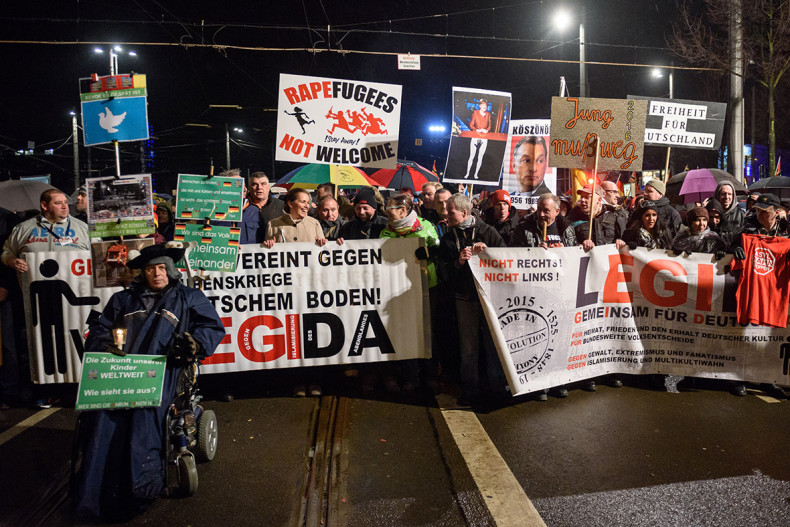 Far-right demonstrators in Leipzig protested against New Year's sex attacks by immigrants in Cologne, while a group hurled rocks at police and smashed windows.
A crowd of several thousand demonstrators from Legida, the local branch of the anti-immigrant Pegida group, in the city centre were met by a large crowd of counter-demonstrators, while police dispersed a group of about 250 who attacked businesses in a student district of the city.
Pegida spokeswoman Tatjana Festerling as quoted by AFP told the crowd "since New Year's Eve, nothing is like it was", and decried the night's "sex jihad against women".
"Asylum-Mummy Merkel had barely delivered her New Year's address to the people when in Cologne the first fireworks hit the cathedral and police," she said.
"Then these Muslim refugees started their wholesale terror attack against German women, against blonde, white women," she said as the crowd booed.
The protest comes after vigilantes took to the streets to launch reprisal attacks against foreigners in Cologne.
On Saturday, January 9, Pegida protesters in Cologne were dispersed by police using water cannon.
Justice Minister Heiko Maas warned earlier that "those who now hound refugees - on the Internet or on the streets - have obviously just been waiting for the events of Cologne" and were now "shamelessly exploiting" the attacks.