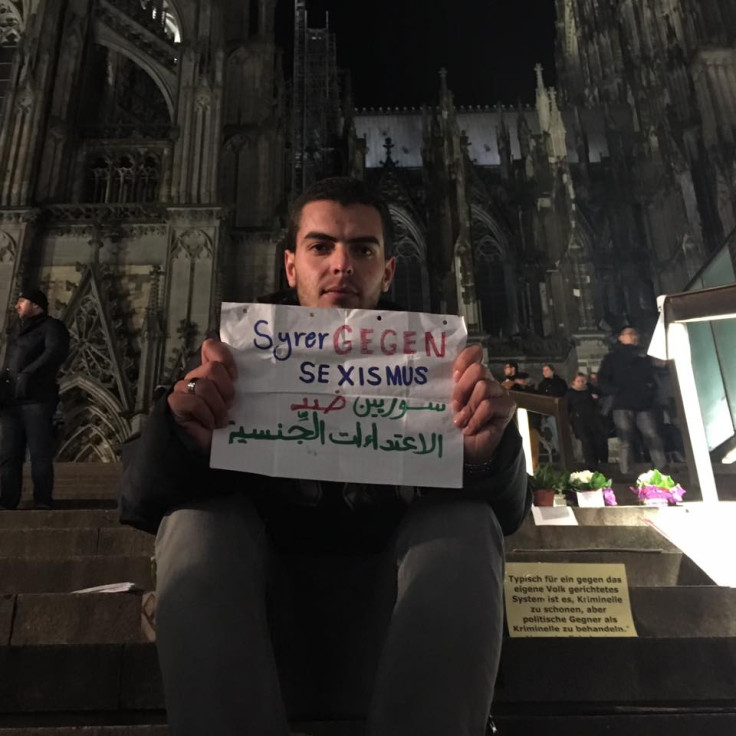 Syrian refugees have taken to the streets of Cologne and to social media to condemn the mass sexual assaults in the city on New Year's Eve and to thank the German people for taking them in.
Refugees and Syrian Germans have posted pictures of themselves holding up signs with the message #SyrerGegenSexismus (Syrians Against Sexism) on Facebook. More than a thousand refugees are expected to attend an anti-sexism protest outside Cologne cathedral, the site of the attacks, on Saturday 16 January.
More than 500 cases of robbery and sexual assault committed by a large group of men described as of "Arab and North African appearance" have been reported, prompting condemnation of Chancellor Angela Merkel's open door policy towards refugees. However, refugees have united to condemn the attacks and declare a criminal minority responsible.
Local media reported that a group of male refugees from Syria handed out leaflets on the streets of Cologne declaring: "We, men from Syria, condemn in the strongest possible terms abuse against women and the attack and robberies on New Year's Eve".
"We thank all the people in Germany, both women and men, for all of the help they have so far offered us. We want to show ourselves worthy of your help. We remain united: Your values are our values."
Anti-sexism demonstrations have also been held by refugees in other cities. In Berlin, a group of refugees protesting against the attacks outside a city train station handed out flowers to female passers-by.
Refugee group "Syrian refugees say 'no' to the attacks in Cologne" has started a Facebook page, where refugees have posted pictures of themselves holding up messages condemning the attacks. A week after far-right group Pegida held a rally in Cologne calling for refugees to be expelled, the refugees will hold a protest condemning the attacks, which more than a thousand people have declared they will attend.
"These criminal attackers are representing just themselves. Regardless of their nationalities and religion or political affiliations. And they are not representing our values and culture which we were raised on", said group founder Sakher al-Mohamed, a refugee from Homs, Syria, in a message on the site.
The Cologne attacks have led critics to claim that the government's refugee policy has placed Germans at risk, with the Bundestag expected to approve new laws allowing refugees found guilty of serious crimes to be deported more easily. Far-right and hooligan groups are believed to be responsible for reprisal attacks against foreigners in the city.
More than one million refugees entered the country in 2015.