At least 10 Colombian soldiers have been killed and 20 injured during an alleged ambush by leftist rebel group Revolutionary Armed Forces of Colombia (Farc).
The soldiers were on a routine patrol in the south-western department of Cauca when they were attacked by the rebels, AP reported. The army said the rebels used explosives, grenades and firearms during their attack.
The attack occurred a month after Colombia's President Juan Manuel Santos announced the government had temporarily halted aerial attacks on the group while peace talks were ongoing.
Following the attack, Santos offered his condolences to the family members of the victims and said via Twitter: "This is precisely why we want to end the war. We are [in contact] with the military leadership to learn the circumstances of the incident. I will travel to the area today."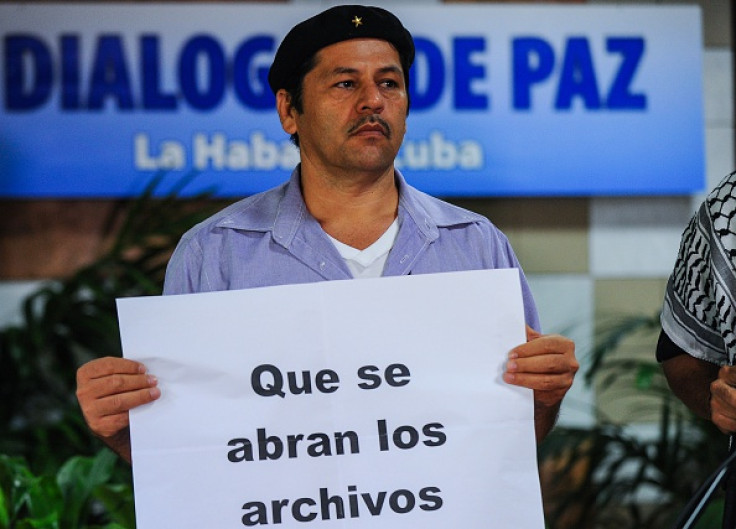 Who are Farc rebels?
Farc (or Farc-EP) is Colombia's largest rebel organisation. With its anti-imperialism and agrarianism views, it aims to establish a socialism-based regime.
The group was founded in 1964 following the eruption of the Colombian Conflict, which is still ongoing. The war - fought among government forces, rebel and criminal groups - is believed to have caused the death of some 220,000 people, most of whom were civilians.
Believed to be formed by between 7,000 and 13,000 members, the group mainly operates in north-western and eastern Colombia, but also raids neighbouring countries such as Paraguay, Venezuela and Brazil.
Farc rebels are renowned for activities such as ransom kidnapping, drug trafficking, bank robbing, extortion and taxation. A 2006 report by Human Rights Watch accused the group of employing dozens of child soldiers. The rights group estimated a quarter of the total members of Farc were below the age of 18.
Since 2012, the group has been engaging with the Colombian government in peace negotiations to end the more than 50-year-long conflict. In 2013, the warring sides reached a deal on land access and rural development, two of the most important issues that had caused years of violence.
In May 2014, the two sides agreed to end illicit drug production in Colombia, while in December of that year Farc announced a unilateral ceasefire, which has not been revoked, despite the murder of the 10 soldiers. In March 2015, both sides agreed to remove landmines scattered across the country.