The Colombian government and the Revolutionary Armed Forces of Colombia (Farc) signed a new peace agreement on Thursday (24 November), despite strong opposition. The deal will end the deadly 52-year-old conflict, which has taken the lives of hundreds of thousands of people and displaced millions.
The peace accord was first reached in September, but was nullified by Colombians in a referendum held on 2 October. This time around, the agreement would not be put to a popular vote and instead would be presented directly before Congress for approval.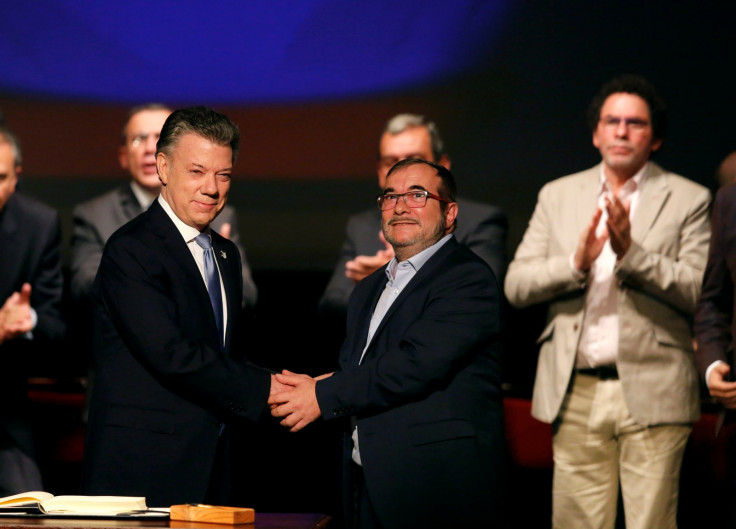 The modified 310-page document was signed at a low-key ceremony in Bogota. It was later handed over to the president of the Congress.
According to reports, at least 800 people witnessed the historic ceremony held at the Colon Theatre, where President Juan Manuel Santos and Farc chief Rodrigo Londono – popularly known as Timochenko – shook hands after signing the deal.
Guests present on the occasion applauded the historic decision and rose to their feet chanting "Si se pudo" (Yes, we could).
Addressing the crowd, Timochenko said "[the agreement would] put a definite end to the war so we can confront our difference in a civilised manner". On the other hand, Santos said that the new peace accord was "better" than the earlier one as it was revised keeping everyone's interests in mind.
He added that he expected Congress to vote on the deal as early as next week, because its execution could not be postponed any further.
Changes made in the new deal
The revised treaty includes amendments to almost all of the 57 points in the original agreement that were negotiated over 40 days in Havana. However, there are five major clauses that have been altered significantly.
According to these clauses, the Marxist rebels will have to proclaim all their assets and hand them over to the government, to be used as compensation for victims of the war. Also, a time limit of 10 years has been set for the transitional justice system and the Farc revolutionaries will be expected to provide all information about drug trafficking that they may have been involved in.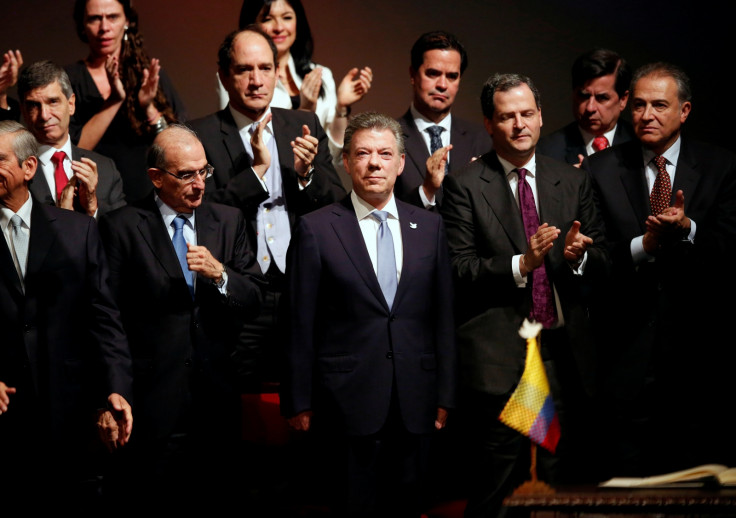 The next step
The new pact also allows rebels to hold public office, but anyone who has confessed to having committed a war crime will not be allowed to live in urban areas for five to eight years.
While Congress is expected to approve the deal as early as next week, the opposing Democratic Centre party, led by former president Alvaro Uribe, has already said that it will vote against the new deal.
It claimed the amendments "were superficial" and that they were still in favour of the rebels – similar to the earlier one. The opposition has demanded that the new accord should also be put up for a popular vote, and it should incorporate harsher sentences for Farc rebels. However, Santos and the rebels have dismissed the demand.