Prince Charles and Colombia's President Juan Manuel Santos in hysterics at Natural History Museum
Prince of Wales has formed a bond with the foreign head of state.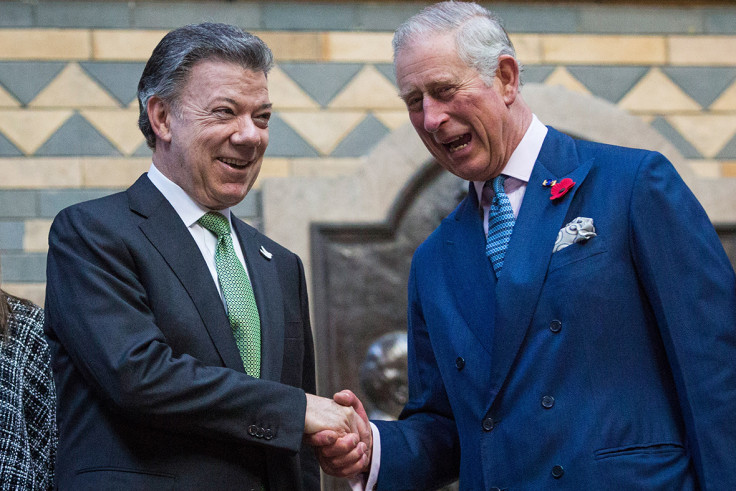 Prince Charles appears to have found a great friend in Colombian President Juan Manual Santos as the head of state enjoys his second day visiting the UK.
The president, accompanied by his wife, Maria Clemencia Rodriguez de Santos, were formally welcomed by the Queen and Prince Philip yesterday (1 November) at the Royal Pavilion on Horse Guards Parade in London.
Santos is the first Colombian president in history to conduct a state visit to Britain, so a commotion including a 41-round gun salute at the Tower of London at midday on Monday was made to mark the special occasion.
And it appeared that Santos, 65, has made a strong bond with the Prince of Wales, 67, as the pair were in fits of giggles as they shook hands after one of them presumably cracked a joke.
The president – who is staying at Buckingham Palace with his wife as an official guest of Her Majesty – seemed to thoroughly enjoy his tour around the Natural History Museum in South Kensington as he examined individual pieces and memoirs in the Darwin Centre.
Earlier in the day, Santos took pride of place around a table at Buckingham Palace where he sat with business leaders during a breakfast meeting. He sat next to Greg Hands – Britain's Minister of State in the Department for International Trade – who he was pictured laughing with.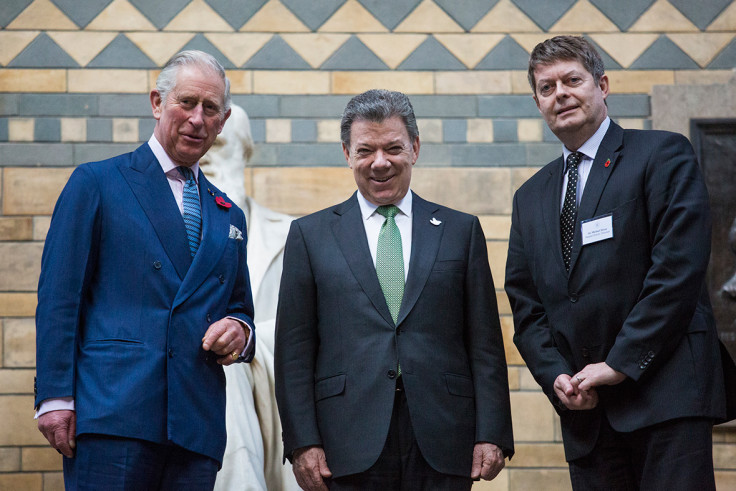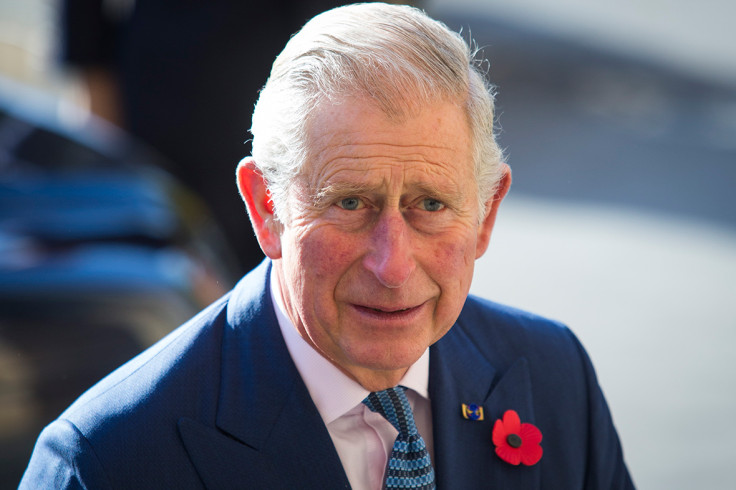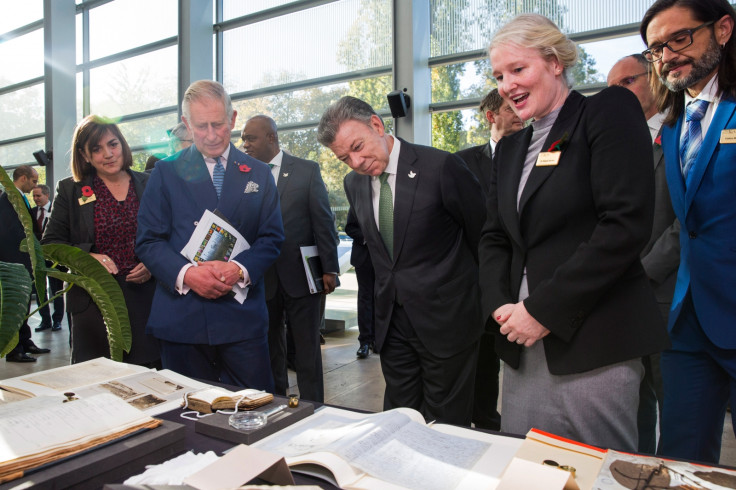 During the lavish ceremonial procession in central London on Monday to welcome Mr and Mrs Santos, British Prime Minister Theresa May, Foreign Secretary Boris Johnson and Home Secretary Amber Rudd were also present. The UK visit comes hot on the heels after Santos' earned a Nobel Peace Prize for his efforts to end Colombia's long-running civil war.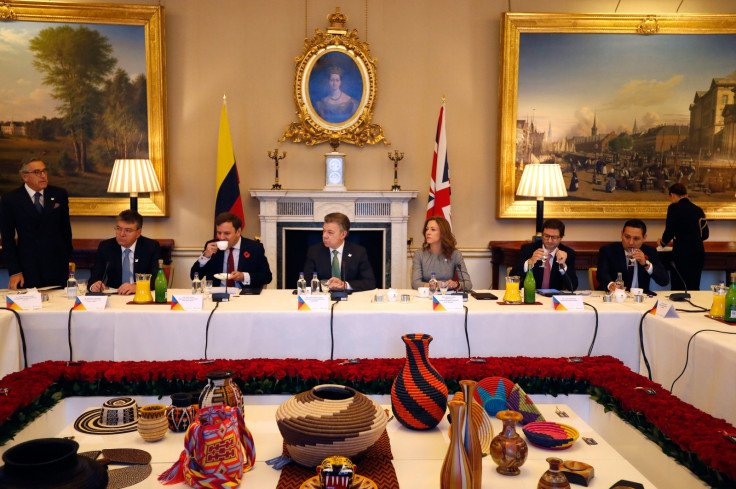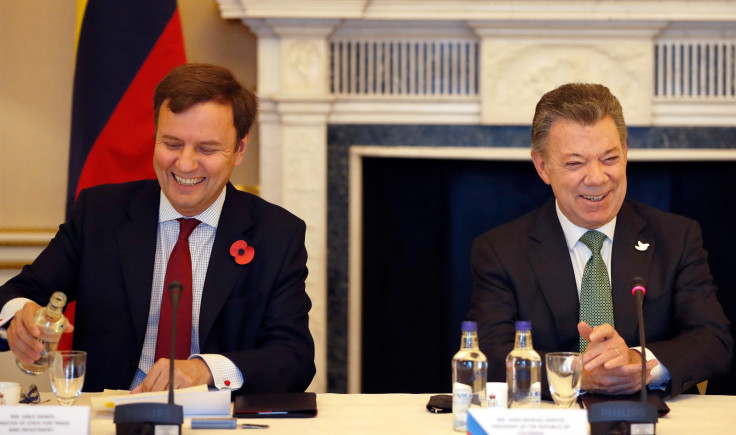 Today's engagements for the president included a working lunch at 10 Downing Street hosted by Mrs May before events at Mansion House, the Natural History Museum and the London School of Economics. Boris Johnson is set to treat the president to a private tour of the Cabinet War Rooms.
Johnson addressed Brexit upon welcoming the president. He said: "We have an important national interest in the security and prosperity of Colombia, and we look forward to forging new links in science, education and research, while reinforcing the traditional friendship between our two peoples through increased tourism.
"[...] As we leave the EU, Britain remains a bold and outward-looking nation, and we are forging a new global role and taking advantage of economic and diplomatic opportunities in the wider world, beyond Europe," he added.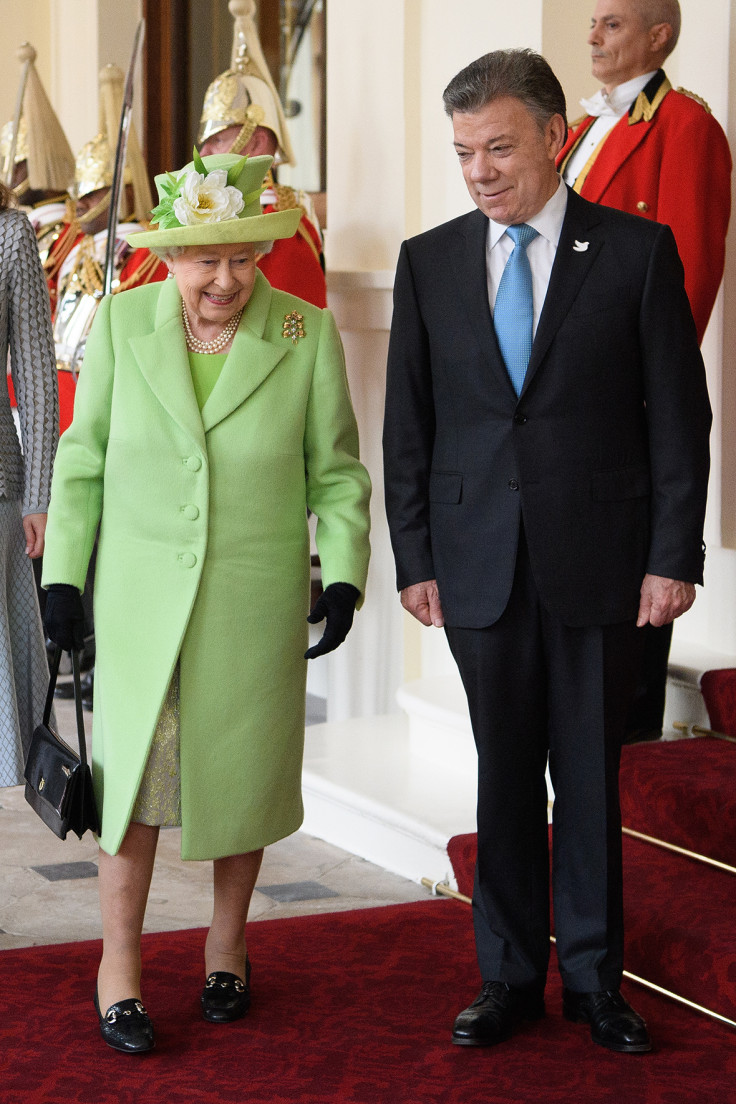 © Copyright IBTimes 2023. All rights reserved.