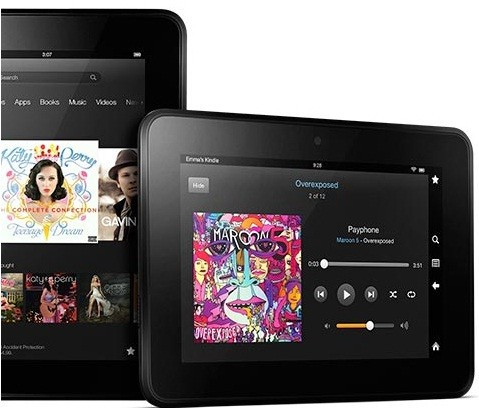 Amazon recently announced 7-inch and 8.9-inch Kindle Fire HD tablets, along with an upgraded version of the original Kindle Fire. Only the 7-inch Fire HD will be available in the UK, where a 16GB version costs £159 and will ship from 25 October.
Amazon has also announced that consumers in the US can pay an additional $15 (approximately £10) to remove ads from the screen. However, there is no word on whether the same feature will be available to UK consumers.
Check out how the Amazon Kindle Fire HD 7-inch compares with Research In Motion's (RIM) BlackBerry PlayBook.
Display
The Amazon Kindle Fire HD has a 7in IPS LCD display with Corning Gorilla Glass, a resolution of 800 x 1280 pixels and a pixel density of 216 pixels per inch (ppi). In addition, the new Kindle Fire HD tablets feature an Advanced True Wide polarising filter and a custom-laminated touch sensor that is claimed to reduce glare by 25 percent and improve colour and contrast from any viewing angle.
The PlayBook features a noticeably smaller display (in fact, the Kindle Fire's display is larger than most of its competitors). BlackBerry's tablet has a 7in multi-touch capacitive touchscreen with a screen resolution of 600 x 1024 pixels running at 170 ppi. The Verge, when reviewing the product, claimed to be impressed with the display's brilliant colours. The 16GB PlayBook sells for around £120.
Dimensions
The Kindle Fire HD measures 193 x 137 x 10mm and weighs approximately 394g. The PlayBook measures 194 x 130 x 10mm. The PlayBook is noticeably heavier than the Kindle Fire, at 425g.
Operating System
Prospective Kindle Fire HD users may be disappointed to know the tablet will not run Android 4.1 (Jelly Bean) but Android 4.0 (Ice Cream Sandwich).
The PlayBook, after its upgrade, runs the BlackBerry Playbook 2.0 software. One of the key new features, the company claims, is a native e-mail client, which carries a unified inbox, tabs and a text editor.
Processor
The Kindle Fire HD will be powered by a Texas Instrument (TI) OMAP 4460 dual-core processor clocked at 1.2GHz. The PlayBook uses a TI OMAP 4430 dual-core Cortex-A9 processor with a PowerVR SGX540 graphics unit. The processor runs at 1GHz and is similar to the one that powers the original Kindle Fire.
Camera
The Kindle Fire HD will sport a front-facing HD camera with a custom Skype app for video calls. The HD tablet is the first of Amazon's products to feature a camera. The PlayBook has a five megapixel rear-facing camera and a three megapixel front-facing camera. Both capture 1080p videos at 30 frames per second (fps).
Connectivity
The Kindle Fire HD will offer dual-band and dual-antenna Wi-Fi (802.11 a/b/g/n) in addition to Bluetooth. More importantly, Amazon's tablet will feature MIMO (Multiple In/Multiple Out - a technology designed to combat problems with line of sight for wireless signals) which is supposed to offer up to 40 percent faster speeds. Amazon also claims the Kindle Fire HD tablets are the first to offer all three wireless technologies - dual-band, dual-antennas and MIMO.
The PlayBook offers Wi-Fi 802.11 a/b/g/n and Bluetooth version 2.1 with Enhanced Data Rate (EDR). The PlayBook supports GPS - something the Fire HD does not. Neither tablet offers Near Field Communication (NFC).
Storage
The Kindle Fire HD will be available in two configurations - with 16GB and 32GB - in addition to free cloud storage for all Amazon-purchased apps and material. The PlayBook also comes in 16/32GB models, as well as a 64GB version. Neither tablet supports microSD cards.
Battery
The PlayBook is powered with a 5300mAh battery that is claimed to last for 10 hours. However, a test by Engadget revealed the PlayBook survived for only seven hours when running a standard MPEG4 video clip, with Wi-Fi on and screen brightness set to 65 percent. The good news was it lasted an hour longer than the Galaxy Tab but came nowhere near Apple's iPad 2. Amazon have yet to specify their device's battery's capabilities but it should be safe to assume a similar standard.