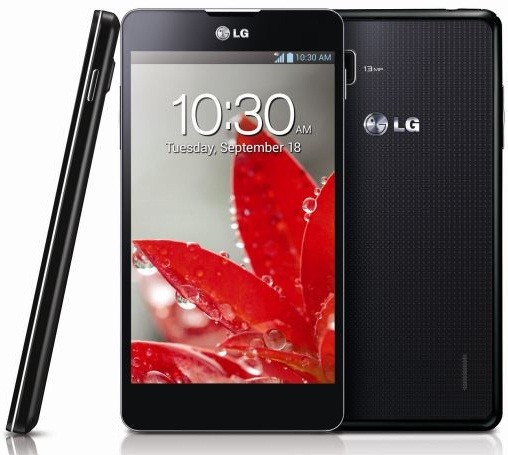 LG's Optimus G reportedly offers a different user experience, one the company calls "Living without Boundaries". It is expected to go on sale in Korea in the near future, with a global release in October. The new smartphone will face intense competition, though, from the newly launched iPhone 5, which should arrive in the UK shortly.
Check out how the Apple iPhone 5's specs do against the LG Optimus G
Display
The Optimus G has a 4.7in WXGA True HD-IPS Plus display with the Optimus User Interface (UI) v3.0. The resolution of the screen is 768 x 1280 pixels with a pixel density of 318ppi.
Apple's new iPhone, on the other hand, features a 4in multi-touch Retina display with a resolution of 640 x 1136 pixels and a pixel density of 326ppi. Statistically this is no better than the iPhone 4S but the new iPhone reportedly has a greater number of pixels (the screen is larger; the iPhone 4S has only a 3.5in screen), making this, theoretically, the better of the two Retina displays.
Dimensions
The Optimus G is 131.9 x 68.9 x 8.45mm whereas the iPhone 5 is 123.8 x 58.6 x 7.6mm. The latter is 33g lighter than the Optimus G's 145g. Apple claims the light weight of the iPhone is made possible by an anodised aluminum body and diamond-cut edges.
Operating System
The Optimus G will run Android 4.0 (Ice Cream Sandwich (ICS). While this is by no means a poor choice, it would certainly have been interesting to have Android 4.1 (Jelly Bean) out of the box. Nevertheless, an update should be available soon. The iPhone 5 will run, as expected and confirmed, Apple's new OS - iOS 6.
Processor
The Optimus G is powered by a Qualcomm Snapdragon S4 Pro APQ8064 quad-core 1.5GHz Krait with an Adreno 320 graphics unit; read here for a report on processor benchmarks.
The iPhone 5 uses a new A6 chip that, although unspecified by the company, is rumoured to be a dual-core ARMv7 processor with a clock speed of 1.02GHz and 1GB of RAM (the Optimus G has 2GB).
Camera
The Optimus G has a 13 megapixel rear-facing camera with standard technologies like auto-focus, LED flash, geo-tagging etc. The camera is capable of capturing video in 1080p at 30 frames per second (fps) with LED video light. The handset has a 1.3 megapixel front-facing camera.
The iPhone 5 also has an eight megapixel rear camera. Apple's is an iSight camera with similar technologies as the Optimus G's shooter. The phone's front camera is a 1.2megapixel FaceTime unit, which can record video in 720p at 30 fps. The camera will provide video calls over Wi-Fi and 3G and 4G. Apple claims the technology in its iSight camera has been completely redesigned for better optical performance and is 25 percent smaller than the camera in the iPhone 4S. In addition, the iPhone 5 has a sapphire crystal lens cover.
Connectivity
The Optimus G offers Wi-Fi 802.11 a/b/g/n, Wi-Fi Direct, DLNA, Wi-Fi hotspot and Bluetooth v4.0 with A2DP. The iPhone 5 offers Wi-Fi 802.11 a/b/g/n, dual-band Wi-Fi (2.6GHz and 5GHz), Bluetooth v4.0 with A2DP. Both phones support 4G networks.
The standout difference in this aspect is that the Optimus G offers Near Field Communication (NFC), while Apple has opted for Passbook, which comes bundled with iOS 6.
Storage
The Optimus G will come only in a 32GB model. The iPhone 5, as is traditional, will come with 16/32/64GB models. Neither phone supports storage expansion.
Battery
The Optimus G is powered by a 2100mAh battery that is expected to deliver 15 hours of talk time. Apple chose to not reveal these details but the product page notes the battery will offer eight hours talk time and browsing on 3G, eight hours of browsing on LTE and 10 hours of browsing on Wi-Fi.