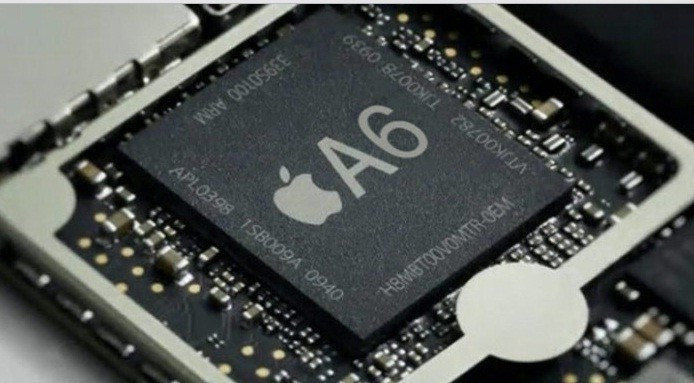 The A6 chip on the newly launched iPhone 5 reportedly uses Apple's first SoC using ARMv7-based design. There has, of course, been no confirmation of that specification by the manufacturer but the results of a benchmark test, posted on Geekbench, shows an iPhone (designated 5,2) running iOS 6 and feeding off a dual core ARMv7 chip clocked at 1.02GHz with 1GB of RAM.
Apple's new smartphone was put through Integer, Floating Point, Memory and Memory Bandwidth tests. The good news is that the new iPhone scored an impressive 1601 points. The better news is that it does indeed appear to be twice as fast as its predecessor, as promised. A round-up of Geekbench scores for earlier Apple devices (iPhone, iPad and iPod) shows the iPad (third generation, CDMA) leading the way, with a score of 797. The highest iPhone on the list is the iPhone 4S, with a score of 632... meaning the new iPhone is actually significantly more than twice as fast as the old one.
In terms of comparisons with Android devices (keeping in mind more exhaustive tests are still to be run and could change the rankings as of now), unsurprisingly the Samsung Galaxy S3 (with a Samsung Exynos 4412 1.4GHz quad core chip) leads the way, with a score of 1628. The Nexus 7 (with an Nvidia Tegra 3 T30 1.3GHz quad core unit) is next with 1604 and these two are streets ahead of third placed Transformer Prime TF201 (with an Nvidia Tegra 3 T30L 1.2GHz quad core chip). So, the understanding as of now is that the new iPhone will give the Galaxy S3 and Android devices a strong run for their money.
We should remind readers these are the first of what will certainly be a barrage of tests on the iPhone 5 and its rivals and our understanding of which is truly the most powerful is likely to change. However, we can say, based on these results, Apple's new iPhone is set to give Samsung, HTC and other leading manufacturers a new set of benchmarks to aim at.