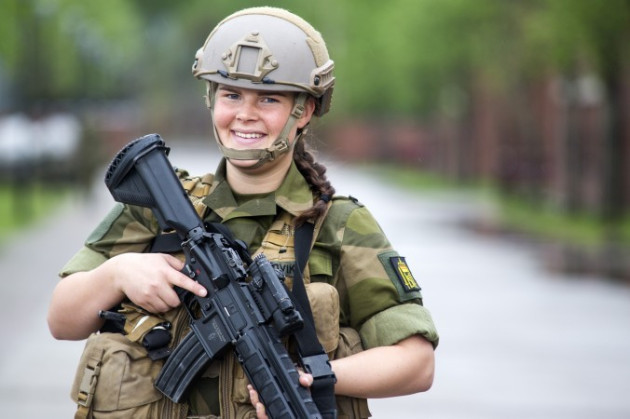 Norway, a world leader in equal rights, has become the first European country to introduce compulsory military service for women.
A majority of the country's MPs voted on Friday 14 June in favour of legislation making Norway the first peacetime Nato member to conscript women into the armed forces.
Anne-Grete Strom-Erichsen, the defence minister, called the decision "historic", according to a Times report, and said that all Norwegians would have access to "gender-neutral military service".
Female conscripts could begin serving in the army from 2015. Norwegian forces are currently taking part in conflicts in Afghanistan, Bosnia and Herzegovina as well as several African countries including Sudan and Eritrea.
The conscription bill is seen as breaking new ground in gender equality. "Rights and duties should be the same for all," said Laila Gustavsen, a Labour MP. "The armed forces need access to the best resources, regardless of gender, and right now mostly men are recruited."
Since 2009 women have been able to volunteer for national service, and currently comprise 8.5% of the country's armed forces.
"We want to be able to choose between the best [women] and the most motivated," said Sandra Borch, head of the youth wing of the Centre party, a member of the ruling coalition.
Traditionally, half of the government's ministers are women, and the country introduced a quota for female board members seven years ago, with all publicly listed companies ensuring that 40% of their directors were women.
Violent attacks on women soldiers
An area of increasing concern is the rape of women in the military by their own. Some have alleged that a woman in the military is three times more likely than a woman in the general population to be raped.
According to studies by the US military, 30% of military women are raped while serving, 71% are sexually assaulted, and 90% are sexually harassed.
In Iraq, women are more likely to be attacked by one of their own than an enemy. There are currently lawsuits in the US military in which the plaintiffs claim to have been subjected to sexual assaults in the military.
Women on active service in history
Sabiha Gökçen (March 22, 1913 - March 22, 2001) was an aviator. She was the world's first female fighter pilot and the first Turkish female combat pilot, aged 23.
During her career in the Turkish Air Force, Gökçen flew 22 different types of aircraft for more than 8,000 hours, 32 hours of which were active combat and bombardment missions.
Roza Georgiyevna Shanina (3 April 1924 - 28 January 1945) was a Soviet sniper during World War II, credited with 54 confirmed hits, including 12 soldiers during the Battle of Vilnius. Praised for her shooting accuracy, Shanina was capable of precisely hitting moving enemy targets.
Shanina was killed in action during the East Prussian Offensive while shielding the severely wounded commander of an artillery unit. She was found by two soldiers disembowelled, with her chest torn open by a shell fragment.