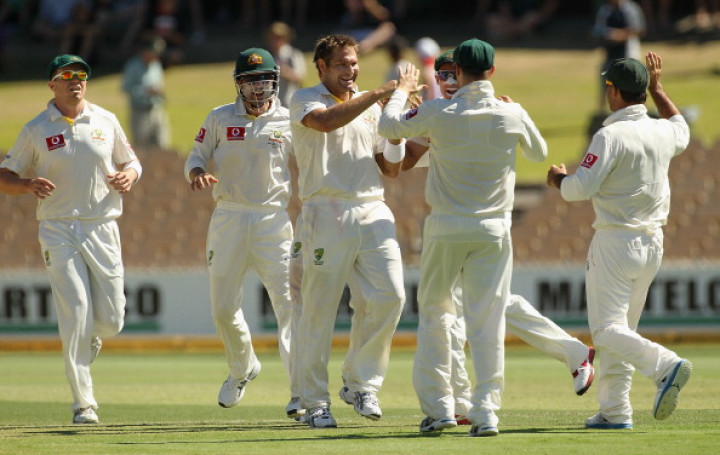 The first test between Australia and India scheduled on 4 December at the Gabba has been postponed until an unspecified date after Phil Hughes' death.
Hughes died on Thursday from a head injury he sustained while playing in the Sheffield Shield Match at the Sydney Cricket Ground on Tuesday. The Australian's funeral will be held at his hometown of Macksville – midway between Brisbane and Sydney on Wednesday.
The statement released by Cricket Australia read, "The first Test between Australia and India that was scheduled to start in Brisbane next Thursday has been postponed until an unspecified date to allow the cricket world time to grieve over the death of Phillip Hughes."
"With funeral arrangements for Hughes confirmed by his family today for his home town of Macksville – midway between Brisbane and Sydney – next Wednesday afternoon, Cricket Australia has announced that it was neither feasible nor fair to begin the Test as originally planned the next day."
Cricket Australia said it hoped to be able to make an announcement as to the details of the postponed Test "in the next few days", it added.
Earlier this week, the two-day warm up match between Australia XI and India at Adelaide Oval was also called off.
Cricket Australia Chief Executive James Sutherland said that the Indian Cricket Board (BCCI) have been understanding and supportive of the unprecedented circumstances.
"These are extraordinary circumstances and we simply couldn't or wouldn't expect our players to be emotionally ready to start a Test match the day after farewelling one of their teammates," Sutherland explained.
"Their welfare is our absolute priority. They are grieving and to expect that they could play a high-pressured, five-day Test match the following day is out of the question. We appreciate the incredible understanding and support of the Board of Control for Cricket in India. It has been nothing short of outstanding during these difficult times."
"We fully acknowledge the many groups who want to know when the Test will take place, particularly cricket fans in Queensland, Queensland Cricket and Stadiums Queensland.
"We just ask the cricket community for some patience as we work through a range of scenarios in full consultation with the players, the Indian Board, the ICC and our broadcasters."
"We hope to resolve all matters in the next few days and will let cricket fans and the game's many important stakeholders know as a priority," the Cricket Australia Chief Executive concluded.