Congo-Brazzaville: Meet #Sassoufit, the youth movement longing for change in Congo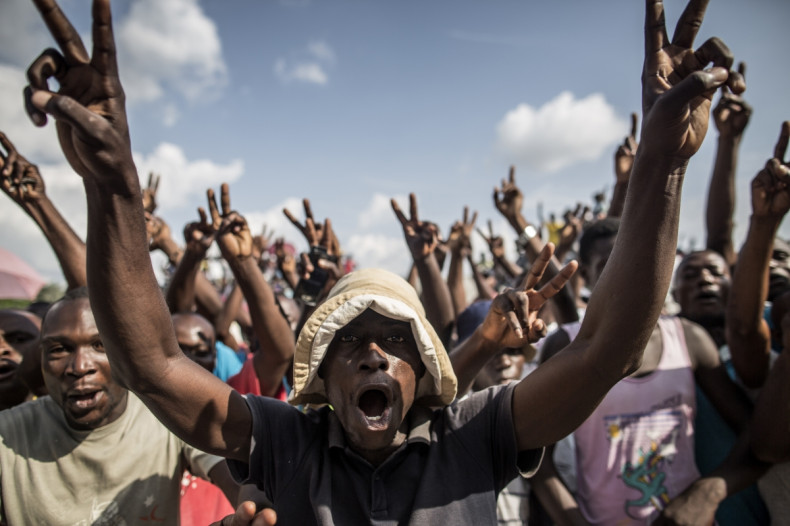 Formerly named the French Congo post 1882, today's Republic of the Congo (also known as Congo-Brazzaville) was rocked by a significant outbreak of violence on 4 April on the day the Constitutional Court published final election results showing President Denis Sassou-Nguesso had won a hotly-contested March presidential poll.
These results were rejected by the Congolese opposition, which earlier condemned Sassou-Nguesso's decision to hold a referendum to modify the country's 2002 constitution, allowing him to run for a third consecutive term in office. Opposition leaders and members of the oil-producing nation's civil society described the move as a constitutional coup, and called for civil disobedience.
Andréa Ngombet, a young Congolese citizen living in Paris and founder of Sassoufit – a collective representing Congolese civilians behind the protest movement - spoke exclusively to IBTimes UK about the opposition's intentions to bring changes to Congo, and how an alleged government crackdown on activists means citizens alone are not "strong enough to fight a totalitarian regime".
The Collectif Sassoufit - a play on the expression Ça suffit (Enough) and Sassou-Nguesso's surname - was created in April 2014 by three young activists, including Ngombet, in light of Sassou-Nguesso's decision to amend the constitution to stay in power.
"Our objective is clear, to end impunity of Congo's dictatorship which can only be reached by taking powers away from Sassou-Nguesso and stopping this old culture of the ruling Congolese Party of Labour (Parti congolais du travail, PCT) party that goes with it."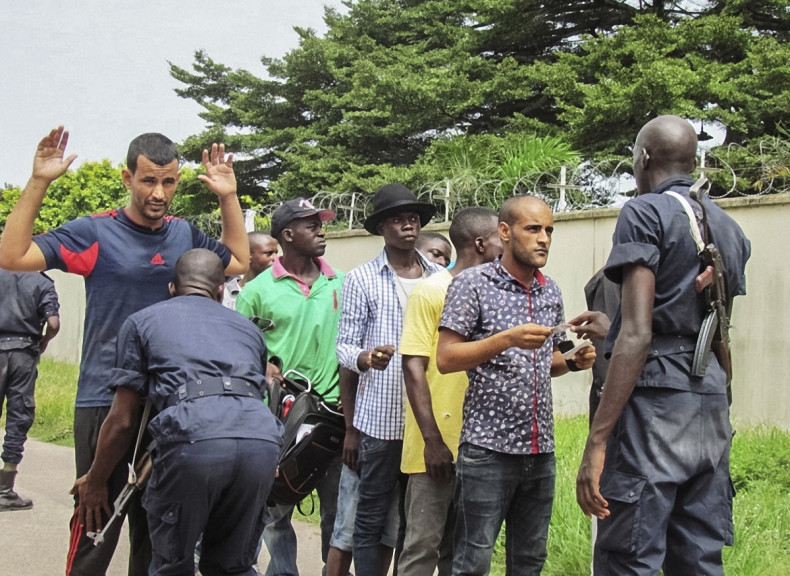 Many Collectif Sassoufit members 'in prison'
Initially only a Facebook page, the autonomous collective has since grown to around 100 members, and generally works with other civil society organisations such as the Mouvement Citoyen Ras Le Bol and Mouvement Citoyen Association pour le Development des jeunes de la Likouala - a region of Congo.
The collective represents links with Congolese youths longing for "things to change in Congo" - but Ngombet explained many of them are currently in hiding, while others have been imprisoned after they became victims of the regime's repression just after the elections.

One of the #Sassoufit collective's campaign banners
Collectif Sassoufit
On 31 March, Amnesty International urged the government to release political opponents detained for criticising the recent elections. Amnesty also wants an end to arbitrary arrests, detentions, and the repression of peaceful protests.
The Congolese authorities arrested leading opposition figures, including Jean Ngouabi, Anatole Limbongo Ngoka, Christine Moyen and Dieudonné Dhird from candidate Jean-Marie Michel Mokoko's campaign team, and Raymond Ebonga and Serge Blanchard Oba from the campaign team of candidate Okombi Salissa. They were all accused of compromising national security. In Pointe Noire at least 10 young activists have also been arrested since the elections.
"The arrest and detention of those involved in peaceful protest violates the rights to freedom of expression and peaceful assembly. Anyone imprisoned on this basis should be released immediately", Stephen Cockburn, Deputy Regional Director for Amnesty International in West and Central Africa, said.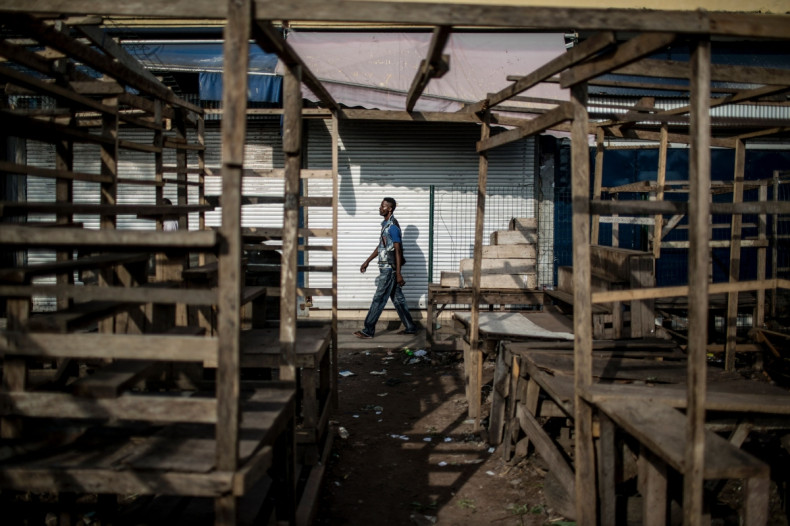 'We know how brutal the regime can be'
In its efforts to "show the real face of the regime to the international community to try and mobilise local action committees to take the dictatorship down", the collective has so far managed to carry out a widespread social media campaign, and helped youths carry out campaigns either in their localities or internationally. The movement, for instance, carried out an 'anti-Sassou' public display in Ouando in the north of the country.
"In our view, the government is strong because our civil society is disorganised. So, more we organise it, more we can reveal the regime's inhumanity and better civilians can live," Ngombet said.
At the end of March, a general strike - dubbed 'ville morte' in which opposition parties called for citizens to stay at home and not go to work - was largely observed in Brazzaville's southern districts and opposition strongholds, but ignored in the capital's north, the president's stronghold.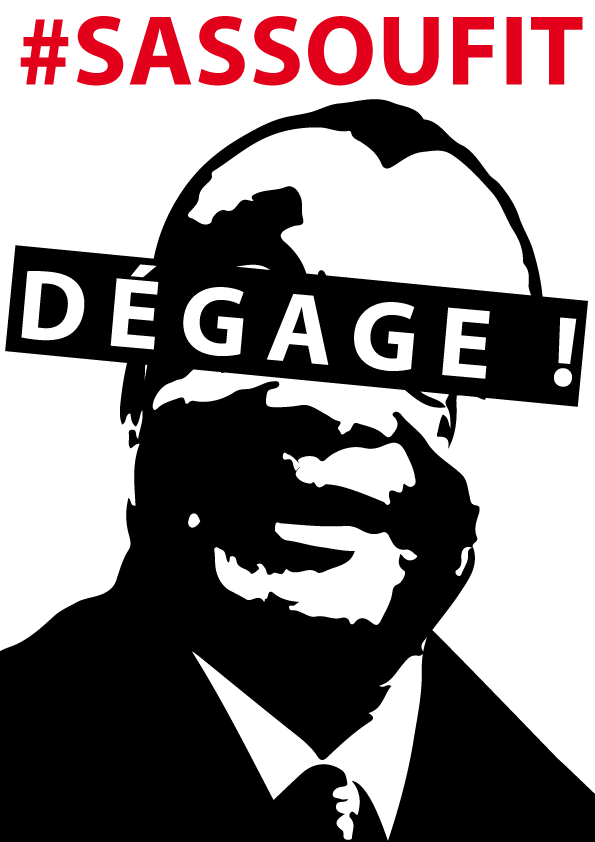 Sassoufit Collective's logo, which shows a black and white picture of President Sassou-Nguesso super-imposed with the word 'Degage!' (Buzz off!)
Collectif Sassoufit
While the group's coordinator acknowledges his movement "won't be able to have the referendum annulled (and therefore the elections nullified), because we know how brutal the regime can be and that is not our goal", he said its goals could only be achieved with the help of external forces.
"It is not for a people alone to fight a totalitarian regime - the Congolese people needs a strong and determined external assistance to force the totalitarian regime to respect both the letter and spirit of democracy," Ngombet explained.
"We are calling for an international intervention from a coalition that may include Gabon-Chad and France at first - such a coalition could force Sassou-Nguesso to sit down at the negotiating table: if youth and people go down in the streets, he'll massacre them because we are faced with someone that is enraged. We're not ready to give him cannon fodder for him to kill first before international forces intervene; that would be aberrant."
Contacted by AFP, Congolese government spokesman Thierry Moungalla said the opposition's decision to contest the results in the Constitutional Court was "a responsible move". However, Moungalla said regarding strikes or other mass actions, the opposition had tried that strategy after the October referendum without much success. IBTimes UK could not reach the Congolese government at the time of publication.