The Conjuring 2 has only just been released in cinemas worldwide, but it sounds like director James Wan has already got ideas in the pipeline when it comes to a third instalment in the horror movie franchise. He has even gone so far as teasing that he wouldn't be opposed to pitting actors Vera Farmiga and Patrick Wilson against some werewolves if a further follow-up came into being...
"Maybe we can go and do it like a classic American Werewolf in London-style," he joked in an interview with Cinema Blend, when they presented the idea that lycanthropy could be the focus of the next film rather than possession again. "That would be awesome! The Warrens set against the backdrop of The Hound of the Baskervilles. That would be awesome. Thank you!"
Okay, so he wasn't all that serious, but considering the instalments that have come before it, it wouldn't sit completely out of place. More so than the first film, The Conjuring 2 tackles the idea of hoaxes as well as hauntings, putting forward the notion that while paranormal investigators Ed and Lorraine Warren might wholeheartedly believe in the supernatural and demons, things aren't always as they seem.
The next film could concentrate on werewolves without actually having a CGI creature creep out from behind the shadows or them having to seriously increase their spending in their already extensive hair and make-up department.
Even though it could work however, it seems unlikely that Wan would stray from following the real-life case files of the Warrens having based the previous two movies on their accounts so closely. Currently, there's no official word that Warners are developing more movies, although, it is something they are preparing for as a possibility behind-the-scenes, revealed Wan. Having been released on Friday in the US, The Conjuring 2 has already scared off box-office competition and made $90.4 million (£63.7m), it's easy to see why.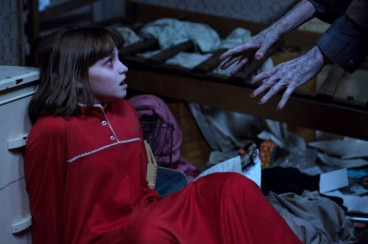 "They have a lot of cases. I'm not sitting there sifting through every single one, but I think, you know, between the writers and the studio, I think they have a short list of their favourite, like basically the top 20 or 30 of the Warren's favourite cases," Wan said.
As of today (13 June), The Conjuring 2 can be seen in UK cinemas too. This time round, the Warrens travel to London, England, in order to help a single mother whose daughter is being terrorised by a malicious poltergeist. And as you may have guessed, spooky goings on ensue.
For more entertainment news follow A-List on Twitter @Alistinsider