Conor McGregor sparked controversy on Friday night (10 November) when he got into an altercation with a referee at a Bellator MMA event in Dublin.
The Irishman was in attendance at the Bellator 187 event to support his teammate Charlie Ward, who has also served as McGregor's bodyguard, in his bout against John Redmond.
The melee began after Ward's first round win over Redmond when the Ultimate Fighting Championship (UFC) two-weight champion, who was ring side, climbed into the octagon to congratulate his close friend.
The referee for the fight was the well-respected Marc Goddard and the official took exception to McGregor's actions and ordered him out of the octagon and appeared to push him towards the exit.
The referee's actions angered the Irishman, who went after Goddard shouting and looking quite agitated. According to the Telegraph, McGregor's retaliation was in the form of a punch towards the official, but it is said to have landed on another official.
The report claims that the UFC star could be in danger of receiving a heavy sanction for his actions and it could come in the form of heavy fines, a suspension or even a licence removal, which could prove costly.
McGregor has not fought inside the octagon since his defeat of Eddie Alvarez at UFC 205 in November last year. The Irish fighter's last foray was in the squared circle when he was beaten by Floyd Mayweather in a boxing match.
The 29-year-old is expected to return to action in the near future and defend his title against Tony Ferguson. The latter became the interim lightweight champion after his win over Kevin Lee at UFC 216.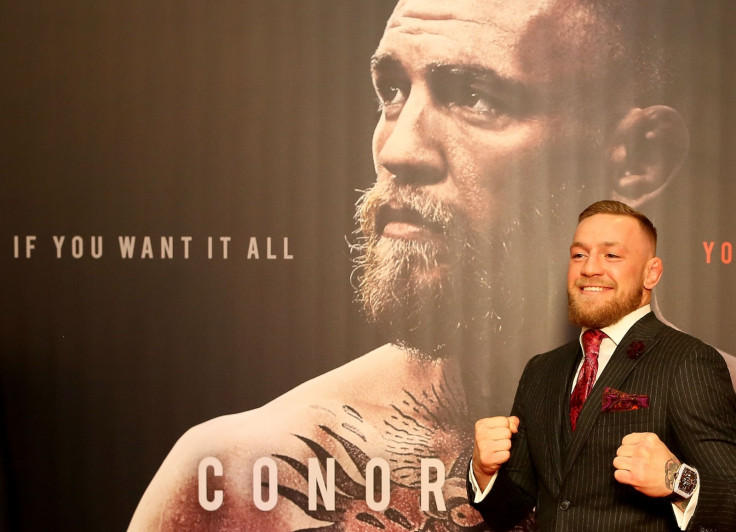 McGregor's head coach John Kavanagh has given Ferguson hope that a fight to unify the titles will take place after admitting that a McGregor vs Ferguson fight is what makes most sense.
"To me, that fight [McGregor vs GSP] makes no sense," Kavanagh told MMAFighting. "He's fighting at 185. He was a big 170er, but to me athletically it doesn't make any sense."
"Tony Ferguson is the fight that makes sense at lightweight. I think that lightweight is Conor's ideal weight class, so Tony is the fight that seems right at the moment."