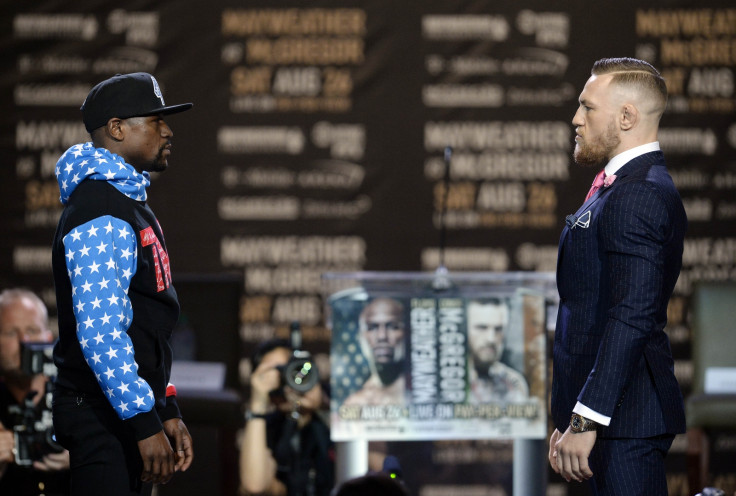 Floyd Mayweather and Conor McGregor stared down for the first time ahead of their multi-million dollar boxing showdown - with 'The Notorious' promising to end his opponent's undefeated record when they meet in Las Vegas on 26 August.
On the first leg of their four-city press tour, the two met at the STAPLES Center in Los Angeles on Tuesday (11 July) with the UFC superstar promising to knock out the five-weight world champion out inside four rounds.
Mayweather, coming out of retirement with the intention of matching Rocky Marciano's all-time professional record of 50-0, had a telling warning for the Dubliner: "God doesn't make mistakes. God only made one thing perfect. And that's my boxing record."
While the evening had its tense moments, it was a somewhat calmer affair compared to McGregor's recent UFC press conferences. Last October, ahead of his UFC 205 lightweight title match against Eddie Alvarez, the 28-year-old, decked out in a white mink coat, grabbed a folding chair and attempted to jump across the stage towards his opponent's fight camp.
Before that, was the now infamous incident with Nate Diaz, where the two hurled cans and bottles at each other on another raucous evening in Las Vegas.
There wasn't anything close to that in LA on Tuesday night, but as expected, McGregor's own electrifying brand of trash talk was in full swing.
Wearing a pinstripe suit embroidered with the message 'F**K YOU' (yes, really); he proclaimed: "As far as the fight, he will be unconscious inside four rounds.
"I can do what the f**k I want. I'm enjoying myself. The movement the power, the ferociousness, he hasn't experienced this. I don't fear him. I don't fear this limited set of fighting that makes it half a fight, a quarter of a fight. if this wads a true fight it wouldn't even take one round."