Disney has dropped millionaire YouTuber PewDiePie after he posted videos containing anti-Semitic content.
PewDiePie, whose real name is Felix Arvid Ulf Kjellberg, is the world's highest paid YouTube star with more than 53 million subscribers. He reportedly earns $15m (£12m) from YouTube every year.
Disney's decision came after several of his videos were found to include Nazi or anti-Semitic references. In one video, he paid two men holding up a sign which read 'Death to all Jews'. In other videos, he played the Nazi Party anthem Die Fahne hoch (The Flag on High) did a Hitler salute and showed swastikas.
Kjellberg defended the videos, arguing the videos were a social experiment to "show how crazy the modern world is" and stating he was not supportive of "any kind of hateful attitudes".
"I make videos for my audience. I think of the content that I create as entertainment, and not a place for any serious political commentary," he said on his Tumblr page.
"I know my audience understand that and that is why they come to my channel. Though this was not my intention, I understand that these jokes were ultimately offensive."
Kjellberg, who is 27, was born in Gothenburg, Sweden, but now lives in Brighton in the UK. He is a gamer, vlogger, comedian and YouTube celebrity who played video games with commentary. Kjellberg became the most subscribed YouTube channel of all time in 2013.
Kjellberg had been associated with Disney through Maker Studios, a company which partners with several YouTube stars.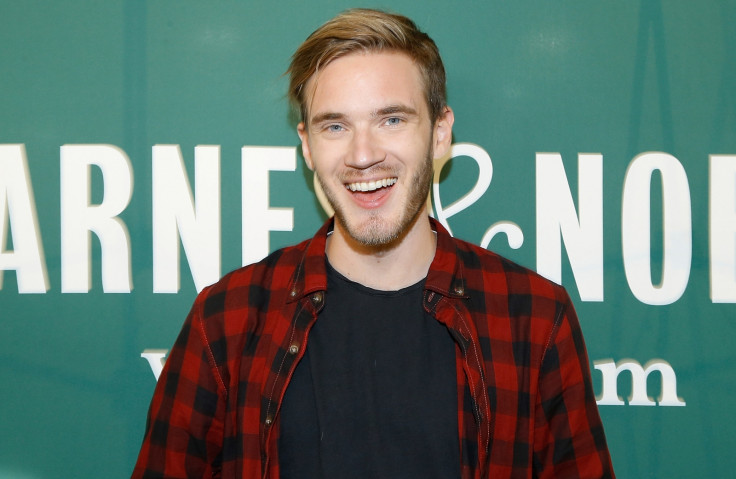 This is not the first time Kjellberg has hit the headlines over controversial comments. In January, he was criticised widely for appearing to use the N-word in one of his videos – watched by over 2.5 million people. A tweet featuring the hashtag #PewDiePieIsAN*****party was then retweeted from his Twitter account, which has almost 10 million followers.
Kjellberg was also criticised for shooting a figure of Jesus in another video published on 7 January.
Last year, Kjellberg – whose videos are known to be profanity-filled – reviewed his older videos and noted how his style had changed. He expressed regret for using words such as 'gay' as a pejorative.
In December 2016, the YouTuber appeared to suggest the video platform was sabotaging his channel because he is white. In a video, Kjellberg said he was going to delete his account because YouTube was penalising him and others by changing its algorithm so fewer people see their videos, which had led to a drop in his popularity.
In the same video, he appeared to attribute the problem to him being white. "I'm white," he said. "Can I make that comment? But I do think that's a problem."
In September 2016, Kjellberg upset fans by making a bizarre joke about joining Islamic State on Twitter. The comment was made during a series of tweets about Kjellberg being unverified by the social media platform.