Ten days after Zimbabwe celebrated 36 years of independence, with ruling Zanu-PF party supporters using the hashtag #1980SoFarSoGood in praise of President Robert Mugabe's accomplishments, a pastor has chained himself to a pole in an anti-Mugabe protest, according to local media.
Pastor Patrick Phillip Mugadza made headlines last December in a one-man protest against Mugabe at the Victoria Falls resort during Zanu-PF's national conference holding a placard that read: "Mr President, the people are suffering. Proverbs 21:13". On 27 April he chained himself to a pole while holding a cross in a hand and a bible in another in the capital Harare.
'Mugabe-Must-Go' pastor
Dubbed the 'Mugabe-Must-Go' pastor, the Remnant Church leader spoke to passers-by about "what we are supposed to do to free ourselves from the ills which are taking place in our nation", as he protested, the African News Agency (ANA) reported.
In a statement, Mugadza claimed he was demonstrating against "the cowardice where the majority of our people are silent when just but everything is going in the wrong direction under our watch".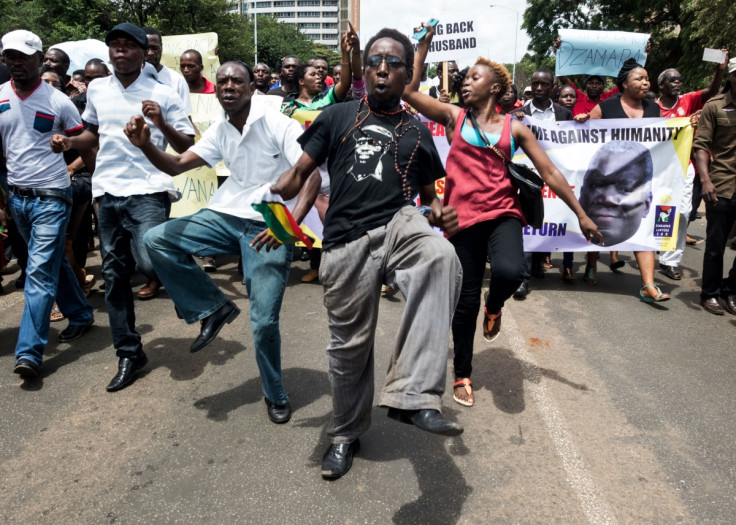 Referring to the country's celebrations, he said there was "need for freedom and not only independence". The pastor then spoke about the arrest of Zimbabwean journalist and political activist Itai Dzamara, who disappeared 13 months ago and whose younger brother Patson was allegedly assaulted and arrested for a few hours on Independence Day after demonstrating against the government at the National Sports Stadium.
"People like Itai Dzamara are abducted for saying the truth; people are beaten when they stand up for the truth, yet we say we are independent", Mugadza said, adding: "Zimbabweans... need to stand and demand (their) freedom, prosperity and jobs".
The pastor's stunt came as frustrated social media users poked fun at Zanu-PF supporters' hashtag by using their own #1980SoFarFromGood, as part of a digital protest against the government's handling of the economic crisis gripping the country. The hashtag trended in 2015, when the country commemorated 35 years of independence, along with #1980SoFarSoBetrayed.
In February, Zimbabwe appealed to domestic and international backers for assistance as it revealed that more than a quarter of its population was going hungry, following a declaration of a state of disaster by Mugabe.
The government blamed perennial food shortages on the 'Godzilla El Nino' weather phenomenon that has caused drought in southern Africa. Zimbabwe's announcement that nearly 2.5 million of its citizens were in need of urgent food aid came amid rising anger from the opposition over Mugabe's planned 92nd birthday bash on 21 February. In March, Mugabe flew to Japan where he was hoping to solidify his nation's Look East policy by boosting investment and economic cooperation deals with Prime Minister Shinzo Abe, who awarded him ¥600m (US$5m) of financial assistance.