Zimbabwe's President Robert Mugabe, who celebrated his 92nd birthday last week, has quashed any debate about his succession after he claimed he will rule until he is 100.
Tensions have been rising in Zimbabwe progressively as a progressively tense fight over who will succeed the ageing Mugabe intensified within his ruling Zanu PF. His 50-year-old wife Grace Mugabe, leader of the Zanu PF women's league, is at the centre of ever-deepening faction fights for the top position within the party. Two rival camps are seen to be positioning themselves to take over from Mugabe.
The 92-year-old leader, however, put an end to the rumours, by claiming he is still in charge and will go on until his term ends in 2018. In a two-hour interview with the ZBC TV on Thursday (3 March), Mugabe dismissed speculation that his wife could take over from him, and said he will neither choose a successor nor retire as that would be against the party conventions.
Mugabe: 'Why do you want a successor?'
President of Zimbabwe since 1987, Mugabe said: "Why successor? I am still there. Why do you want a successor? I did not say I was a candidate to retire, only to retire midway. I never said that. I was a candidate for the term, for the term".
Referring to the inside infighting, which prompted the ouster of the leader's former vice president, and long-time allyJoice Mujuru – who launched her new party, Zimbabwe People First (ZPF) on 1 March to challenge the president's 35-year rule – Mugabe said Zanu PF's discussion over succession was alien to Zimbabwe and that the core structures of the party were undivided,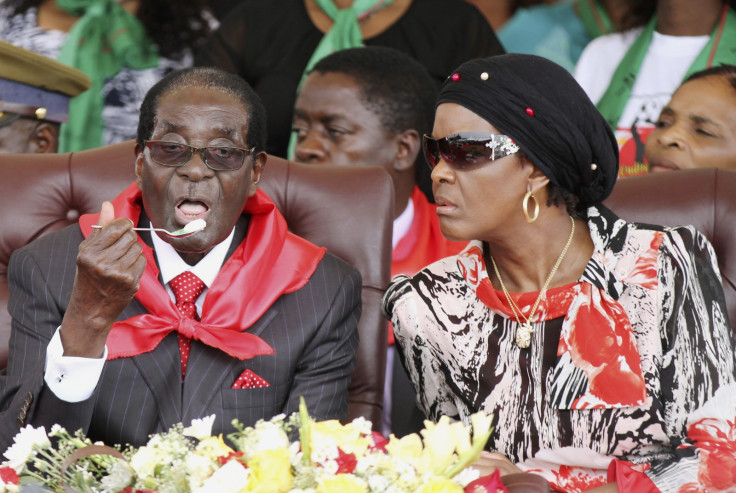 "Right at the grassroots and the middle system of the party is very intact," Mugabe claimed during the interview.
The two factions openly support Grace Mugabe, and vice president Emmerson Mnangagwa respectively, to succeed Mugabe.