Commentators have questioned Zimbabwe opposition leader Morgan Tsvangirai's claims that he has no intention to become part of a coalition of parties to contest the nation's 2018 elections.
As the battle to succeed ageing President Robert Mugabe drags on, opposition parties have been forming coalitions to challenge the head of state and his ruling Zanu-PF party in the crucial general elections.
In a statement on 2 May, ex-prime minister Tsvangirai's MDC-T party spokesman, Obert Gutu said the leader believes in a people-driven, and not leaders-driven political process.
"While we appreciate that a coalition of opposition political parties, if carefully structured and strategically implemented, can give the Zanu-PF dictatorship a crushing and humiliating defeat in a free and fair election, the MDC is acutely mindful of the need to always take into consideration the interests of the majority of the toiling masses of Zimbabwe whenever an electoral coalition pact is to be entered into," the statement read.
Lawyer Alex Magaisa, former adviser to Tsvangirai said, on 7 December, that while he expected the MDC-T leader to refuse to form or join a coalition with smaller parties, he was still considering challenging the 92-year old head of state alongside opposition leader and former vice-president, Joice Mujuru.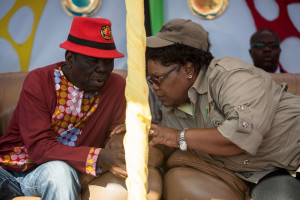 "Tsvangirai said he is going in this election alone because he does not believe in coalition of small parties, that have no real political credential. Some of the small parties are just the result of someone deciding to launch a political party, with no real plan, and those [small parties] are then called 'opposition'," Magaisa exclusively told IBTimes UK.
Magaisa cited the MDC-led by Welshman Ncube, Tendai Biti's People's Democratic Party (PDP) party, the Zimbabwe African People's Union (ZAPU) and Mujuru's Zim-PF as credible parties.
These comments come in light of an earlier show of unity between Tsvangirai and Mujuru who, in August, called for citizens and political parties to join hands to unseat Mugabe. "President Morgan Tsvangirai is personally handling the issue of coalition discussions and deliberations with similar minded opposition political parties," Gutu said in the statement.
In September, Biti spoke to IBTimes UK about the need to form a "broad coalition" with a "common platform", after five parties came together to create the the Coalition of Democrats – entitled Code, while another grouping, the National Electoral Reform Agenda (NERA) says it "fighting for electoral reforms".
Mugabe's Zanu-PF party, meanwhile, said it is ready to welcome back former ally Mujuru and her allies, despite sacking her in 2014 – after accusations emerged she was plotting to kill the president – a move many described as orchestrated by First Lady Grace Mugabe.
"It is not surprising that Zanu-PF would say this. It's in their interest to welcome back Mujuru and her supporters, as she is seen as a big block for the party," Magaisa said.