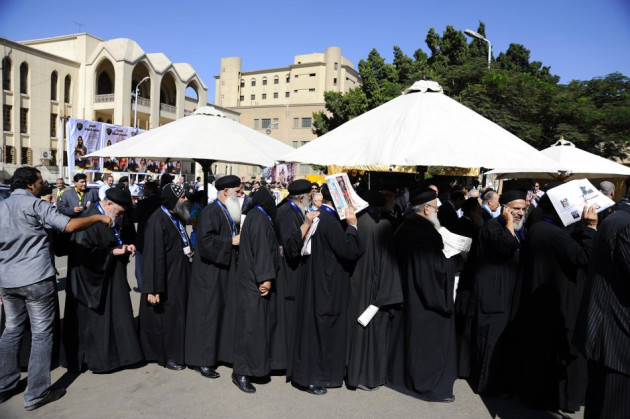 A blindfolded child is to pick the new Pope of Coptic Christians in Egypt.
A five-year-old will pick one from three nomination papers inside a box on the altar of St Mark's Cathedral, next week in Cairo.
The choice made is the culmination of a lengthy election process, in which nominations are whittled down to a final five by 2,400, before the winner is picked at random.
Coptic Christians will anoint their 118th leader, following the death of previous incumbent Pope Shenouda III. He died aged 88 in March. Reports he died from cancer were unconfirmed.
Coptic Christians are a minority in Egypt, where political power was recently won by the Islamic Brotherhood. Among the new pope's responsibilities shall be advocating to President Mohamed Morsi the case of a people who feel increasingly vulnerable following the downfall by Hosni El Sayed Mubarak. Targeted attacks by Islamists have risen against worshippers and churches in recent months.
The faith is the most popular Christian demonination in Egypt, with around 14 million believers in the Arab world's most populous nation.
Up for election are two bishops and three monks. They are Father Pachomios al-Syriani, 49, who is a monk from the Paromeos Monastery in Wadi al-Natrun. Bishop Raphael, 58, a respected auxiliary bishop in Cairo, with links to the Roman Church. Meanwhile, Fr Raphael Ava Mina, 60, is monk at St Mina Monastery near Alexandria. Fr Seraphim al-Syriani, 53, is a United States residentt and monk from the Paromeos Monastery. Finally, Bishop Tawadros, 60 is is acting head of the Coptic Church,