Coronation Street viewer is still receiving backlash after claiming gay kiss was 'sickening'
Twitter user Davies accused of being a bigot over Billy and Todd's steamy embrace.
The romance storyline between Billy and Todd on Coronation Street – whereby the new couple shared a steamy kiss on Monday night's (5 September) episode – has caused more controversy online than any other episode in recent times.
The episode in question on the ITV soap saw Billy, played by Daniel Brocklebank, and Todd, played by Bruno Langley, share a passionate smooch in a boutique hotel on a romantic date. Though many straight couples kiss on the soap before the watershed, this same-sex instance caused a social media storm.
One user wrote a Twitter post which offended a great deal of people. Rob Davies – a former newspaper columnist – said after the episode: "@itvcorrie Homosexual scenes in #Corrie tonight were sickening. Most now tolerate this practice but we don't need it rammed down our throats."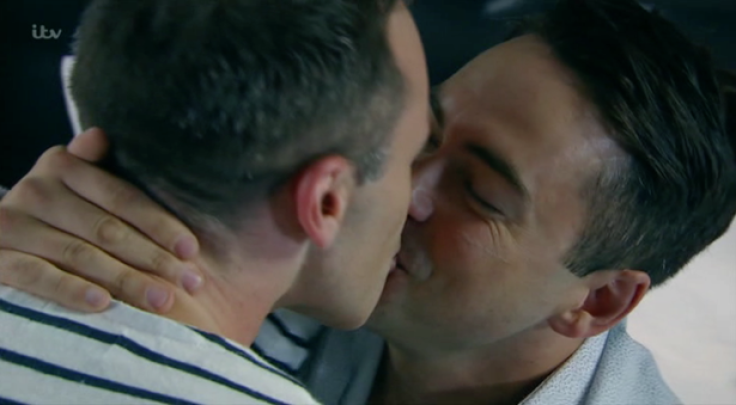 The Twitter user is still receiving a huge about of backlash for the comment, three days later.
He tweeted last night: "I'm about to get lynched if I don't get off Twitter - not by you lot this time, but my wife. Someone else speak up for the silent majority!" while he also wrote this morning: "I must do some work and I don't much wish to discuss that #Corrie episode any more. I think I've said more than enough on it!"
A majority of Twitter users have defended the homosexual scenes – and have continued to tweet this particular Corrie viewer on his opinion.
One person replied: "@rjdavies7 The era of LGBT invisibility or us being 'discreet' to accommodate loathsome bigots like you has long since passed thankfully" before adding: "And don't insult the public by claiming you represent the majority. In fact you and your bigoted ilk are a dwindling minority."
Another user responded with: "@rjdavies7 I wish for my children to be happy, whatever that means for them. Please don't speak for all parents with your 'wishes'".
Meanwhile, actor Brocklebank acknowledged the abundance of support he has received after the scenes aired earlier this week.
Tweeting last night, he said: "Today has been crazy!! Thanks to you guys, I'm pleased to say I've seen far more love than hate. Thank you. You're amazing. #LoveWins".
He also tweeted prior to that: "Thanks for ur AMAZING messages! Let's not hate on the homophobes. We're bigger than that. Hate breeds more hate. They need love & education".
Brocklebank continued: "Despite the saddening amount of Homophobia today, Im proud to be part of something that's making it easier for future generations. #LoveWins".
Coronation Street continues tonight at 7.30pm on ITV.
© Copyright IBTimes 2023. All rights reserved.