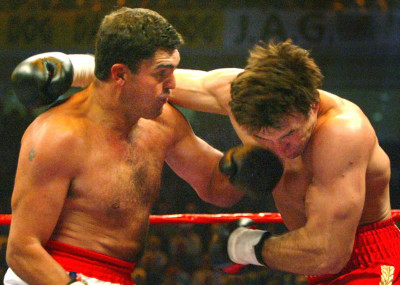 Former heavyweight world boxing champion Corrie Sanders died as a hero as he protected his daughter from four assailants during an armed robbery.
Sanders, 46, nicknamed the "the Sniper" for the accuracy of his hooks, was at his nephew Michael's 21st birthday party, in Brits, South Africa, when four gunmen burst into the restaurant and started shooting.
Sanders dived to shield his 15-year-old daughter, Marinic, as the robbers shot wildly, while robbing the guests.
Sanders, shot in the abdomen and in an arm, was rushed to the Kalafong hospital in Pretoria where he died eight hours later.
Sanders won the WBO heavyweight championship in 2003 knocking out Wladimir Klitschko in the second-round. It was one of the only three bouts the current WBA (Super), IBF, WBO, IBO & The Ring Heavyweight Champion lost in his 16-year professional career.
The Klitschko brothers, Wladimir and Vitaly commemorated Sanders on their official website.
"We were shocked to learn of the sudden death of Corrie Sanders and we want to express our sincere condolences to his family. We will remember Corrie as a great person both inside and outside the ring. He was a great fighter with a big heart who always positively represented the sport of boxing," they said.
Sanders impressive record was of 46 fights, 42 wins, 31 by KO and four losses.
He retired in 2008 after losing his final bout, against Osbourne Machimana, for the South African heavyweight title.
His girlfriend Elsabe Gouws said he was planning a comeback.
"[minutes before the shooting] He was talking about getting back into the ring," she said.
Even though statistics show a declining trend in the last two years, violent crime remains a major concern in South Africa.
According to the Overseas Security Advisory Council (OSAC), on a rating scale of low, medium, high, and critical, Pretoria, Johannesburg, Durban, and Cape Town are rated "critical" for crime.
Invasion robberies are considered to be a particular threat as reckless assailants are likely to use weapons even for low-income robberies.
"They fled with a digital camera and also a handbag of one of the people who was in the restaurant," a police spokesman said about the robbery in which Sanders was killed.
"To my friend Corrie Sanders. May you Rest In Peace brother. Senseless," tweeted boxer Lennox Lewis.