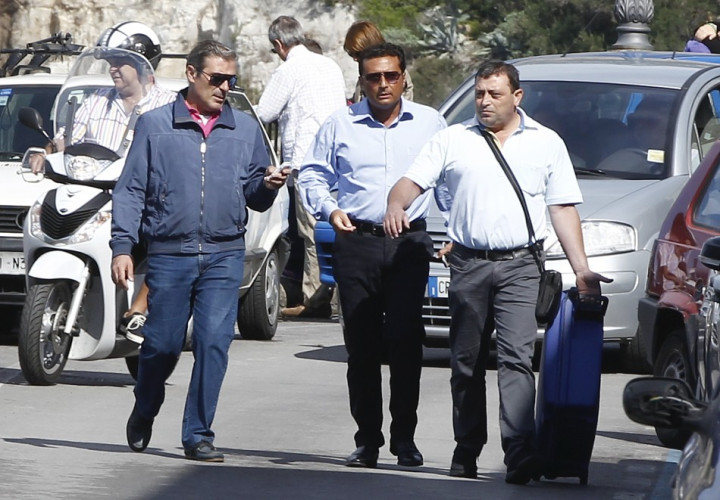 Costa Concordia captain Francesco Schettino appeared before an Italian court for the first time since the shipwrecking disaster that killed 32 in January, and had his hand shaken by one of the survivors.
"Captain Coward," as Schettino was nicknamed after it emerged that he fled the sinking ship with hundreds of passengers still on board, arrived at the Moderno theatre in Grosseto, Tuscany, where the trial is being held for seating capacity reasons, in a grey Mercedes with clouded windows.
Schettino sat on the theatre's main stage, alongside his lawyers and the other seven facing prosecution for the incident.
A group of 126 lawyers and 50 consultants crowded the theatre's first rows, while about 500 people between survivors and victims' relatives sat on the back.
As the hearing was to begin, a passenger of the Costa Concordia, who was on board as the ship sank after hitting a rock, climbed up the stage and approached the captain.
The two spoke briefly and then shook hands. "Let's hope that truth will be ascertained," the man told the infamous captain, according to Italian newspaper La Nazione.
"Let's hope," Schettino, who is accused of multiple manslaughter, shipwreck and abandoning ship, replied.
Schettino was not ordered to attend the preliminary hearing, as his testimony was not in schedule; however he decided to "stand up for his case" and face those accusing him, he said. He is not allowed to speak to the court but can instruct his lawyers.
"I want to make sure that the data from the black box will be interpreted correctly and that all the issues will be examined," Schettino said.
At the hearing, Schettino appeared nervous, continuously biting his nails and handling his mobile phone.
Experts are revealing the data from the black box of the cruise ship that sank off the Giglio Island coast. Nevertheless, much of their foundlings have already been made public.
It was revealed that Schettino took the ship too close to the coast in an attempt to perform a sail-past salute to the island's inhabitants and particularly a retired captain living there.
Shortly after hitting the rock Schettino moaned in Napolitan dialect "Madonna, what have I done," then asked his aides if they were "really going down," before to lie to his passengers, ordering to a bridge officer to tell them the ship had suffered from a blackout.
Schettino has apologised and accepted a degree of responsibility for the incident but he has also always maintained that he is not the only one to blame and that without his directions and command many more would have died.
At the hearing, his lawyers repeated that the incident as partially due to a misunderstanding between Schettino and Costa Concordia Indonesian helmsman, Jacob Rusli Bin.
Rusli Bin allegedly did not understand Schettino's order to avoid a rock, given to him 23 seconds before the crash, and he mistakenly turned right instead of left.
However experts said that even if Rusli Bin would have followed Schettino order, this came too late for the rock to be circumvented.
Rusli Bin is under investigation for the disaster together with Schettino, along with three executives from Costa Crociere and members of the company shore-based crisis management team.
"It is just for luck and coincidence that we aren't dead," a couple who survived the incident told reporters in Grosseto.
"Schettino has his share of responsibilities and that is undoubted as he shouldn't have changed route. However also what happened next is unbelievable."
In a linked trial Schettino is challenging Costa Crociere decision to fire him.