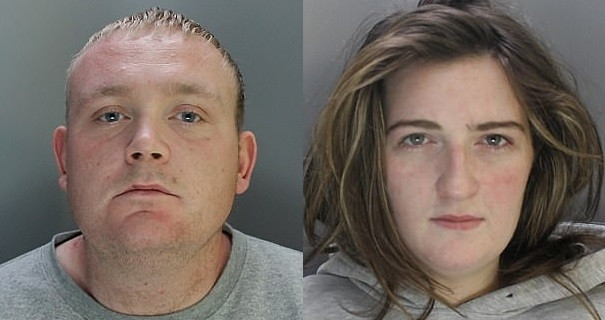 A sadistic babysitter, who was tricked into thinking the child he was caring for was his son, battered and bit the toddler so badly his mother could not recognise him.
Nicholas Lessiter, from Denbighshire, was jailed at Mold Crown Court on Tuesday (26 September) after a child in his care was found with a frightening catalogue of injuries.
The court heard how his girlfriend, Rebecca Barnes, stood-by and watched as the child suffered even putting on headphones to cut out the noise during the four-day ordeal.
It was stated that Lessiter was bizarrely tricked into thinking the 20-month-old boy was his by Barnes, his on-off girlfriend.
In fact the child was just in the couple's care for a few days after the toddler's mother accepted help from Barnes last April when she moved into a new flat.
The defenceless child was left with a broken collar bone, bruising to his whole body, and human bite marks all inflicted while he was left alone with the twisted pair.
Barnes, who had suffered "extreme violence" at the hands of Lessiter, was jailed for two-and-a-half years in prison while Lessiter, 26, was sentenced to five years. Lessiter was cleared of raping the child.
Lessiter admitted child cruelty while Barnes admitted child cruelty on the basis that she was aware of the injuries but did nothing to help and did not seek medical attention for the child.
Sentencing the pair, Judge Niclas Parry said there was "no greater responsibility than to protect helpless and defenceless children" according to the BBC.
Parry added that it was possible for Barnes' actions to be explained by her abuse boyfriend's controlling behaviour towards her.
"You took that child into your home when you knew that Lessiter would be present, a man you know was capable of using extreme violence upon you, kicking and biting you", said Parry according to the Daily Mail.
He added: "You persuaded him that child was his. Your deception went further and you were able to persuade your own mother that the child was her grandson.
"It was your choice to bring that boy into that house. Only you could have protected him and taken him from the abuse but you failed to do that."
The child has since made a full recovery and his mother said in a victim impact statement that the decision to leave her child with the pair was "the worst decision of my life".