Police in Belfast have launched an investigation after a pig's head was left at a community centre and racist graffiti was sprayed outside.
The Police Service Northern Ireland (PSNI) are investigating the incident as a hate crime and say that it took place between Friday night and the early hours of Saturday 23 September.
The animal's head and graffiti were discovered at the Inverary Community Centre, on Inverary Avenue, east Belfast and left one DUP councillor "angry and disappointed".
The graffiti included the swastika and the words "no Muslims" and "No blacks".
Writing on Facebook, George Dorrian, Councillor for the Titanic DEA, said it was a "futile and shameful act".
"It is disappointing to think that there are still those who creep around in the middle of the night, damaging property and attempting to stir hatred against those who have joined our community," he said in the post.
"I have asked the council to remove this as soon as possible, and hopefully it won't be repeated. If anyone has any information on those responsible I would ask that they contact the PSNI immediately."
Muslims are forbidden to eat pork for religious reasons as the Quran prohibits eating the "flesh of the swine".
PSNI Insp Ian McCormick said: "At approximately 5am it was reported to police that graffiti had been daubed on the walls of a building and a pig's head had been placed against the shutters of the building.
"Hate crime, in all its forms, is totally unacceptable. It is the responsibility of each and every one of us to ensure that we live in a society where diversity is respected.
"If you or someone you know is the victim of a hate crime please contact police or your local support agency."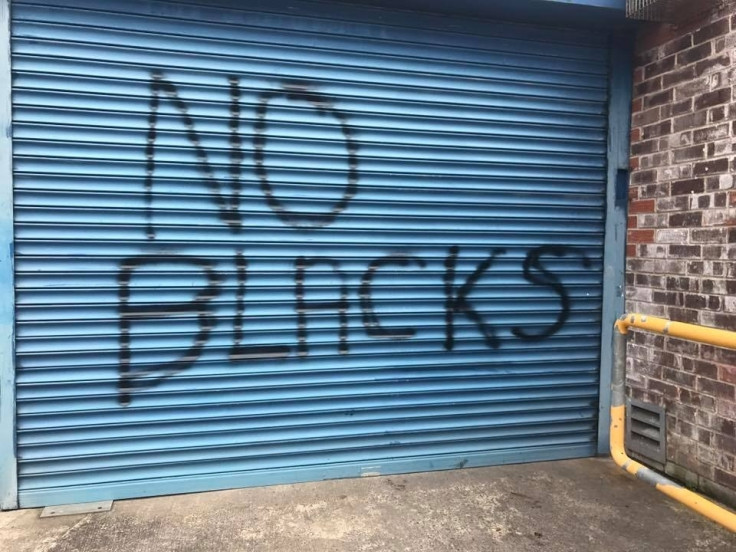 Gavin Robinson, Member of Parliament for Belfast East, urged anyone with information to come forward, writing on Facebook that it was: "Disappointing that mindless individuals would engage in vandalising Inverary Community Centre".
Last month, a pig's head was dumped outside an Islamic centre less than ten miles away in Newtownards, with the building also daubed with anti-Muslim graffiti.
Police have not commented on a possible connection between the two incidents, but both are being treated as a race hate crime.