The guests at the Hotel Rigopiano, on the Apennine Mountains in Italy, were mostly couples and families looking to enjoy a few days of holiday and relax in the four-star resort.
Rescue operations have been working through the night to free those trapped under the snow and rubble of the hotel, hit by an avalanche in the evening of 18 January. Ten people, including four children, were rescued in the morning and early afternoon of 20 January, after spending 43 hours trapped.
One woman and her daughter managed to light a fire to keep warm, Italian news agency Ansa reported. Four lifeless bodies were recovered overnight, the newspaper Corriere della Sera reported.
Below is the list of the people who were registered at the hotel and are now feared missing. Two people, Paola Tomassini and Marco Vagnarelli do not appear in the list as they may have checked-out already when the avalanche struck. Their families fear for their lives as they have not heard from them since Wednesday (18 January) lunchtime.
Giampaolo Parete survived the avalanche as he had left the hotel to collect painkillers for his wife. "I am alive because I had to go to fetch something in my car. When the avalanche hit the hotel, I was buried in the snow, but I managed to get out of it. The car was not buried, so that's where I waited for the rescue staff to arrive," he said.
His wife Adriana and two children, six-year-old Ludovica and seven-year-old Gianfilippo were rescued in the afternoon of 20 January, Ansa reported, along with 9-year-old Samuel, the son of Domenico di Michelangelo and Marina Serraiocco. The couple is still missing despite earlier reports of their rescue.
Among those who were rescued there is pastry chef Giampaolo Matrone, pizzeria owners Vincenzo Forti and Giorgia Galassi, and 25-year-old Francesca Bronzi. Six-year-old Edoardo was also brought to safety, while his parents Sebastano di Carlo and Nadia Acconciamessa were among the victims. These include two people working at the hotel, Gabriele D'Angelo and Alessandro Giancamerino, and Rosa Barbara Nobilio. The body of a sixth victims was found in the morning of 23 January, but it has not yet been pulled out of the rubble.
A Senegalese man called Faye Dame was instead added to the list of people missing. He was working in the hotel but was initially not counted among those at the hotel when the avalanche struck, the daily newspaper Corriere della Sera reported. The newspaper noted that conflicting reports and mistakes over the identity of the victims is frustrating relatives of those missing in the hotel.
Among those still unaccounted for, are husband and wife Luciano Caporale and Silvana Angelucci. The couple, who owns a hairdressing salon in the town of Castel Frentano, was planning on leaving the hotel on 17 January, but the adverse weather conditions delayed their departure. "We are all worried, let's hope this story ends well," Castel Frentano mayor Gabriele D'Angelo told the local press on 20 January. "We don't have any news at the moment and we are all hanging by a thread of hope".
The Hotel Rigopiano guests:
Adriana Parete and her two children Ludovica, six, Gianfilippo, seven
Silvana Angelucci 46, and Luciano Caporale, 54
Domenico di Michelangelo, 40, Marina Serraiocco 36, and 9-year-old Samuel
Stefano Feniello 28, and Francesca Bronzi, 25
Valentina Cicioni 32 and Giampaolo Matrone 33
Claudio Baldini and Sara Angelozzi
Marco Tanda, 25 and Jessica Tinari, 25
Vincenzo Forti 25 and Giorgia Galassi 22
Piero di Pietro, 53 and Rosa Barbara Nobilio, 51
Tobia Foresta, 60
Bianca Iudicone, 50
Adriana Vranceau, 43
Sebastano di Carlo, 49, Nadia Acconciamessa, 47, and 6-year-old Edoardo
Hotel staff:
Emanuele Bonifazi, 31
Alessandro Ricetti, 33
Gabriele D'Angelo, 30
Ilaria Di Biase, 22
Faye Dame, 42
Alessandro Giancamerino
Cecilia Martella
Luana Biferi
Roberto del Rosso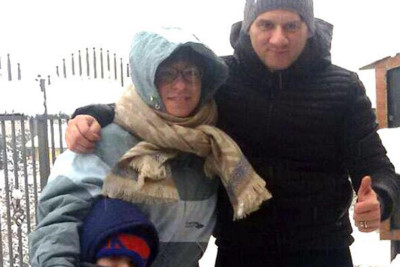 This article has been updated on 23 January to reflect the latest news.