Two dogs have been found wandering the streets of a small town approximately 12km (7 miles) away from the Hotel Rigopiano, which was destroyed by an avalanche on the evening of 18 January.
Martina Rossi, a bartender who worked at the hotel, recognised them immediately: the two Maremma sheepdogs, Lupo and Nuvola (respectively meaning 'wolf' and 'cloud' in Italian) had come from the mountain resort. She found them roaming through the streets of Villa Cupoli, a small suburb outside Farindola.
The dogs were born and raised at the Hotel Rigopiano and belonged to the owner, Roberto del Rosso, who is among those missing.
The dogs, who were reportedly "inseparable", had a litter of puppies in December, but there was no news as to their offspring's whereabouts. Three puppies were rescued from the hotel on 23 January, five days since the avalanche struck.
"This certainly cannot fill the void and the destruction affecting a town on its knees, still, hoping, waiting for good news," Rossi reflected in wrote in a post shared on Facebook. "But seeing these two beautiful dogs has made my heart beat again, at least for a few seconds, bringing back some hope."
The post struck a chord with many. It received more than 15,000 reactions and almost 5,000 shares in less than 24 hours, providing some comfort to those who fear for the lives of those trapped in the hotel. "Martina, I don't know you, but I am grateful for this wonderful news. I'm crying of happiness. Thank you," a woman wrote in comment to the post.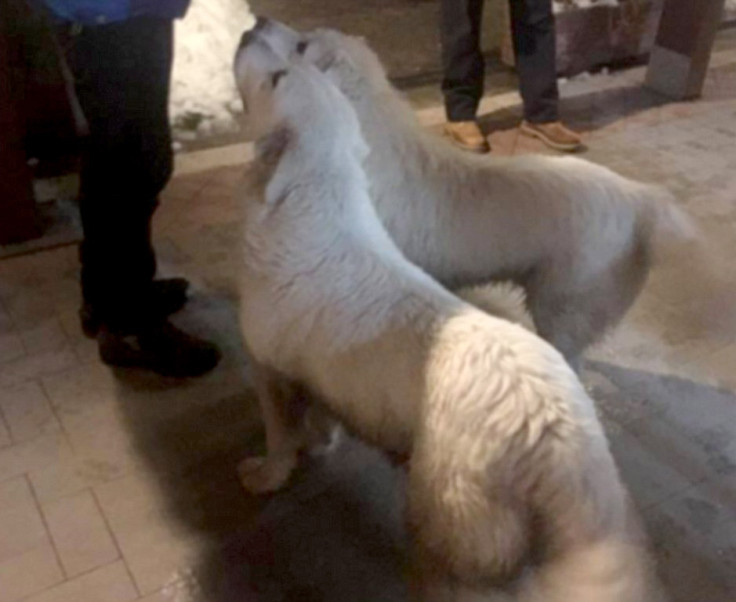 Rescue operations have been continuing tirelessly through the night to find the people missing. Four lifeless bodies were recovered so far, Corriere della Sera reported.
Eight people, including two children, were rescued on the morning of 20 January, after spending more than 40 hours trapped. One woman and her daughter managed to light a fire to keep warm, Italian news agency Ansa reported. Local news reported in the early afternoon of 20 January that the rescuers had made contact with another group of survivors.