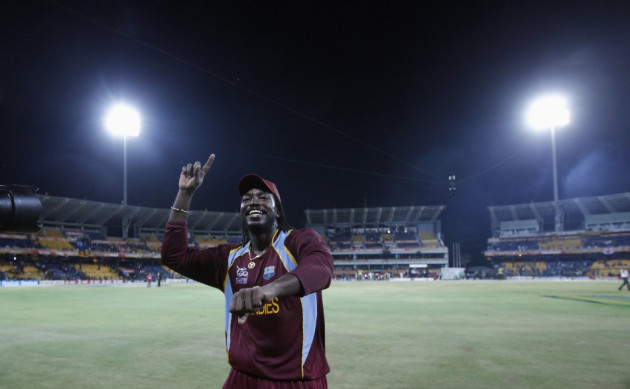 After Chris Gayle's fireworks in the IPL we look at the top five most destructive innings in the history of Twenty20 cricket.
5. Brendon McCullum
When it comes to scoring runs in T20 international there is no-one that can compare with McCullum. The Kiwi wicketkeeper-batsman has amassed a staggering 1814 runs in his 60 innings, yet there is one particular knock that sums up just how destructive he can be. At last year's World Cup the 31-year-old recorded the fastest century in the short format of the game. Though this would be eclipsed by Gayle, it was a brutal innings of great invention and clean hitting. The Bangladesh bowlers could do nothing to break his rhythm as he scored 123 from just 58 balls. His century had come off 51 balls and the crowd were richly entertained as he smashed 11 fours and seven sixes.
4. Richard Levi
The barrel-chested South African had come to the fore while playing domestic Twenty20 and it didn't take long before he made his name on the international stage. Playing in just his second ever international T20 match, Levi was at his dismissive best. Opening the batting he made 117 from just 67 balls as the New Zealand bowling attack was slogged to every part of the ground. The 24-year-old took a particular liking to Doug Bracewell who went for 37 runs in just two overs. With a ground that was clearly too small to handle his monstrous hitting, he struck a staggering 13 sixes and just four boundaries to help his side claim victory with fully four overs to spare.
3. Yuvraj Singh
Every cricket fan in the world knows about the power Yuvraj possesses but that did not stop supporters from looking on in complete shock as he hit England fast bowler Stuart Broad for six consecutive sixes. During the 2007 World Cup, when T20 was just starting to make an impact on the age, the Indian batsman entered the crease with just a few overs remaining. Looking to post an intimidating score Yuvraj would smash 58 from just 16 deliveries, including a savage 19th over which saw him become the first player to achieve the feat in the 20 over form of the game. Constantly giving himself room to swing his powerful arms, there were hoicks over cow corner, thrashes over midwicket and monstrous straight drives in an innings that left England simply stunned.
2. Graham Napier
The Essex all-rounder was seemingly born to play this form of the game. With his stocky build and broad shoulders, Napier is able to generate immense power and wonderful leverage that sees him regularly clear not only the boundary rope, but the Chelmsford stands. Having previously excelled with the ball in his hand, the then 28-year-old rewrote the record books in 2008 when he smashed 16 sixes on the way to posting an astonishing 152 not out off just 58 deliveries. Sussex were simply unable to stop the onslaught as Napier, whose previous best score had been 48, laid siege to all parts of the ground. He hit former England bowler James Kirtley for 29 from the final over as he helped Essex post a mammoth total of 242-3.
1. Chris Gayle
The IPL has seen some frankly outrageous innings since its inception in 2008 but none can compare with the vicious display Gayle produced on April 23, 2013. The West Indian opener has long been viewed as one of the most destructive batsman in world cricket. He may have a laid back demeanour but his aggression with the bat is the stuff of legend. Playing for the Royal Challengers Bangalore, Gayle would begin by hitting a century that included seven dot balls, four singles, eight fours and 11 sixes. By the time he was finished he had amassed a staggering 17 sixes and 13 boundaries in a score of 175 from 66 deliveries. The 33-year-old was simply in a zone and you had to feel for the Pune Warriors bowling attack which was smashed to all areas of the ground. Even with such an impressive feat, Gayle remained cool saying: "I got a good total. I can't say it's a decent total - it's a good total." Perhaps only a double hundred would constitute excitement for Gayle.
See Gayle's astonishing innings in the video below.