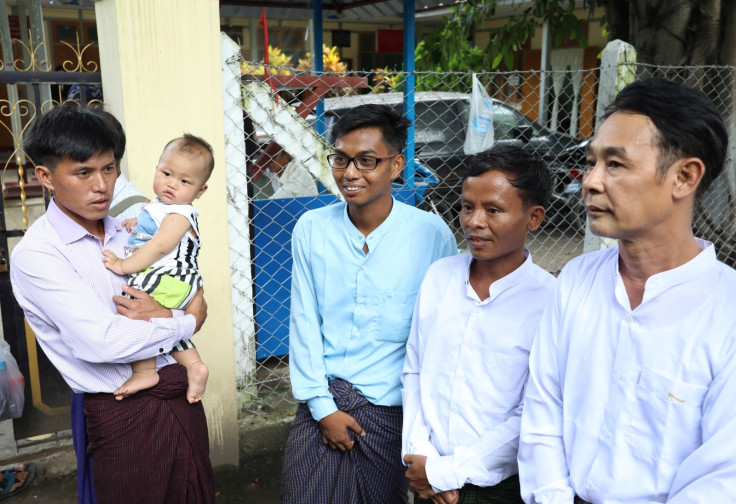 The Myanmar military has withdrawn criminal charges against five journalists, saying it decided to "forgive and drop charges" against the media in an effort to "work together for the interest of the citizens and the country."
The Myanmar Press Council confirmed the news and said it has received an official letter from the military and has also expressed its gratitude.
While local daily newspaper The Myanmar Times reported that charges against five journalists were dropped, news agency Reuters put the number at six.
Amid concerns about free speech, the media personnel were facing prosecution for allegedly associating with illegal groups and defaming the army, a statement from the office of Commander-in-Chief of Defence Services stated on Friday (1 September).
The army, known as Tatmadaw in the country, was apparently forced to take action because the media coverage had "disgraced its image, dignity and activity."
The accused included editor U Kyaw Min Swe and columnist U Kyaw Swa Naing of The Voice, who were arrested in June under Section 66(d) of the country's Telecommunication Law. They were also later sued under Section 25(b) of the Media Law for publishing a satire online about a Tatmadaw movie that allegedly defamed the army.
The other journalists whose charges have been dropped are U Thein Zaw of The Irrawaddy, and U Aye Naing and U Pyae Bone Aung of the Democratic Voice of Burma. They were arrested for covering an event held by the Ta'ang National Liberation Army – a group which is designated as illegal by the Myanmar government – in late July.
The charges against them were filed under the Unlawful Association Act, which provides for up to three years' imprisonment for people found to have abetted illegal groups.
"It's injustice from the very beginning. We journalists were just doing our work, but we were charged and spent more than 60 days in jail," U Pyae told Reuters over phone from the court where his trial was being held.
Daw Khin Mi Mi, the lawyer representing U Thein Zaw, said, "Captain Thet Naing Oo withdrew the charges at today's [1 September] court hearing. The township legal officer will then submit the withdrawal of the prosecution to the district court, which is a formal procedure."
Meanwhile, it was also reported that the Tatmadaw will drop charges against activist U Htin Kyaw and student leader U Wai Yan Thein, with both facing prosecution under Section 505(b) for allegedly defaming the military.