The situation of ethnic Rohingya Muslims is worsening in Myanmar. Thousands of persecuted minorities are attempting to escape to neighbouring Bangladesh even though many fail in their perilous journey.
According to the UN's International Organisation for Migration (IOM), as many as 18,500 Rohingyas have fled Myanmar's restive Rakhine state within five days ending Wednesday, 30 August. However, thousands more – many of them sick and few with bullet wounds – are struggling to flee the region.
The plight of the Rohingyas took another bad turn on Friday, 25 August when Myanmar's security forces stepped up their clearing operations in the country's north amid allegations of extrajudicial killings. The latest round of fighting came after a Rohingya militant group attacked military outposts. And, this had forced the Myanmar's army to launch a crackdown.
There have also been reports that security forces burning the villages and attacking the Rohingya minorities, who have already faced bloody persecution under the Myanmar government for several years.
"They are in a very, very desperate condition. The biggest needs are food, health services and they need shelter. They need at least some cover, some roofs over their heads," IMO's Sanjutka Sahany, who runs an office near the Myanmar-Bangladesh border, said. Many of the victims are quite traumatised, added Sahany.
Majority of those fleeing the persecution are thought to be women, children and elderly people. Though deaths have been reported in the latest bout of violence, there is no credible information on the death toll.
Bangladeshi border guards have recovered bodies of 20 women and children on Thursday, 31 August, after a boat capsized in the border region.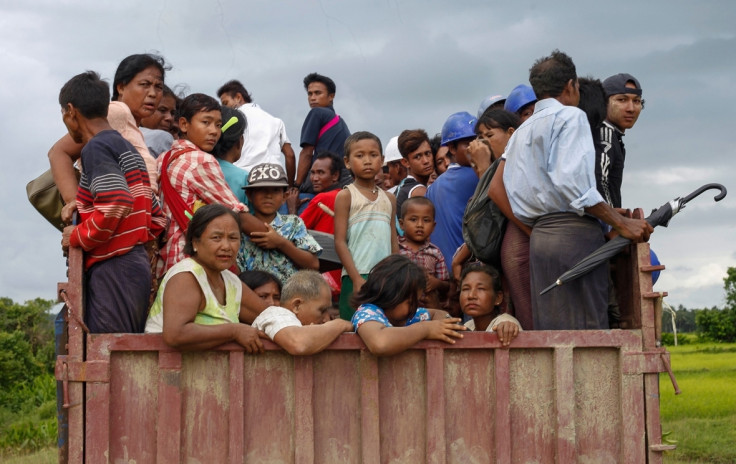 Meanwhile, the UN Security Council held discussions on the latest situation in Myanmar on Wednesday, 30 August though there was no formal statement after the closed-door meeting.
"We all condemned the violence, we all called on all the parties to de-escalate," British ambassador Matthew Rycroft to the UN told reporters adding that the member states insisted on de-escalation of the crisis.
The ethnic Rohingyas, who have allegedly been persecuted in a systematic manner for the past few years, are often dubbed as a stateless minority and are branded illegal immigrants in the Buddhist-majority country, Myanmar.