At least 12 killed in Myanmar's troubled Rakhine state following attacks by Muslim insurgents
Police said Rohingya Muslims were behind the attacks that targeted 24 police post and an army base.
At least five policemen were killed when Muslim insurgents attacked 24 police posts in Myanmar's Rakhine state. Seven insurgents were also killed in a gunfight with the security personnel, the government said in a statement on Friday (25 August) morning.
The statement added that some 150 Rohingya men also attempted to break into a military base in the state, leading to a gunfight between the two groups. Fighting was ongoing when the government released the news.
The attacks that targeted northern Rakhine state reportedly took place a day after a United Nations panel led by the former UN chief Kofi Annan recommended that country leader Aung San Suu Kyi deal with the Rohingya crisis in a "calibrated" way without excessive force.
The Suu Kyi government has been accused of "ethnic cleansing" after security forces in the country has been driving out the Rohingya Muslims from the state, triggering large scale violence.
The UN committee conducted a year-long research to find long-term solutions to bring back peace to Rakhine state.
Meanwhile, giving details on the Friday attack, the information committee affiliated with the office of Suu Kyi said: "The initial information is that at least five policemen were killed, two guns have been taken (from the police) and seven dead bodies of extremist Bengali insurgents have been seized."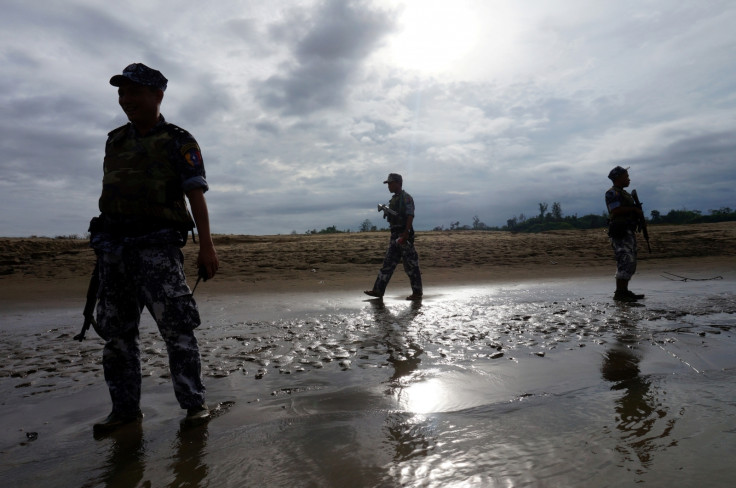 The term "Bengali insurgents" has reportedly been used to describe the Rohingya Muslim. It is considered a derogatory term that implies the Rohingyas are illegal immigrants from Bangladesh and not natives of the country as claimed by the community, Reuters reported.
"The extremist Bengali insurgents attacked a police station in Maungdaw region in northern Rakhine state with a handmade bomb explosive and held coordinated attacks on several police posts at 1am [local time]," the statement read.
The conflict between the Myanmar government and Rohingya Muslims began since October 2016. Nearly 87,000 Rohingya Muslims have already fled the country to neighbouring Bangladesh amid escalating tensions.
© Copyright IBTimes 2023. All rights reserved.