Police have started handing out scratch and sniff cannabis cards in order to help people spot signs that the drug is being grown in their neighbourhoods.
Crimstoppers has launched the campaign to tackle cannabis cultivation following a 15 percent hike in factories producing the drug over 2011 and 2012.
As part of the campaign, police forces across the UK will be issuing scratch and sniff cards that contain a replica of the smell of cannabis in its growing state.
Roger Critchell, Crimestoppers director of operations, said: "We are distributing 'scratch and sniff' cards because not many people know how to recognise the signs of cannabis cultivation happening in their neighbourhood, many are also not familiar with the established links between this crime and serous organised crime. Cannabis farms make everyone a victim."
The independent crime-fighting charity says there are several points people can look out for when identifying cannabis factories, including a strong sickly sweet smell, covered or blocked off windows, visitors at unsociable hours and a constant buzz of ventilation.
It also says to look out for cannabis growing equipment, lots of cables and strong lighting day and night.
Areas where cannabis is known to be grown include west and south Yorkshire, London, Manchester and Avon & Somerset.
West Yorkshire is the worst affected area, with almost 1,800 cannabis farms found between 2010 and 2012.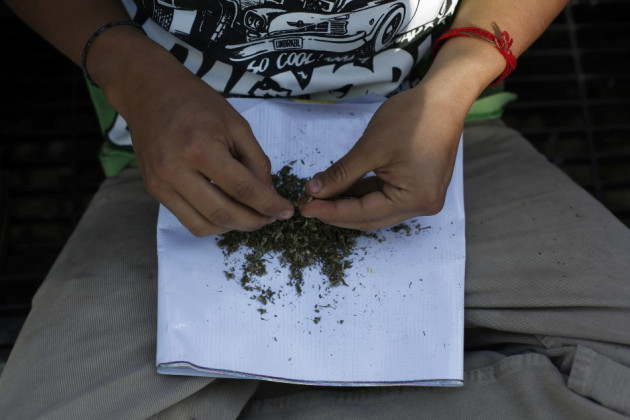 In the last two years, police have seized over one million cannabis plants, with a combined value of £200 million.
Increasingly, drug farmers are using residential properties to grow cannabis. Crimestoppers says this means organised crime is being brought into people's communities.
Cannabis farmers will often steal the energy they need to grow the plant, and tampering with electricity also increases the risk of fire in these properties.
Lord Ashcroft, founder and chairman of Crimestoppers, said: "Cannabis farms grow more than just drugs. Those who are cultivating cannabis tend to be involved in other areas of crime and are often involved in related gang crime and other violent crimes involving firearms.
"These individuals use violence and intimidation to carry out these crimes and endanger the lives of those around them. We want to help put an end to this and the funding that cultivation provides to serious organised crimes like human trafficking and gun crime."
Andy Bliss, lead for drugs for the Association of Chief Police Officers, added: "Many people don't realise that the empty, run down house or flat on their street with people coming and going late at night may actually be a commercial cannabis farm.
"It's not just the stereotype of the remote rural set or disused industrial estate unit. The Crimestoppers campaign will help members of the public to recognise the signs and smell of a cannabis farm. The police will use the intelligence generated by the campaign to help build on recent successes in tackling this issue."