Real Madrid v Manchester United Reaction: Ronaldo, Ramos, Ferguson and De Gea Give Their Views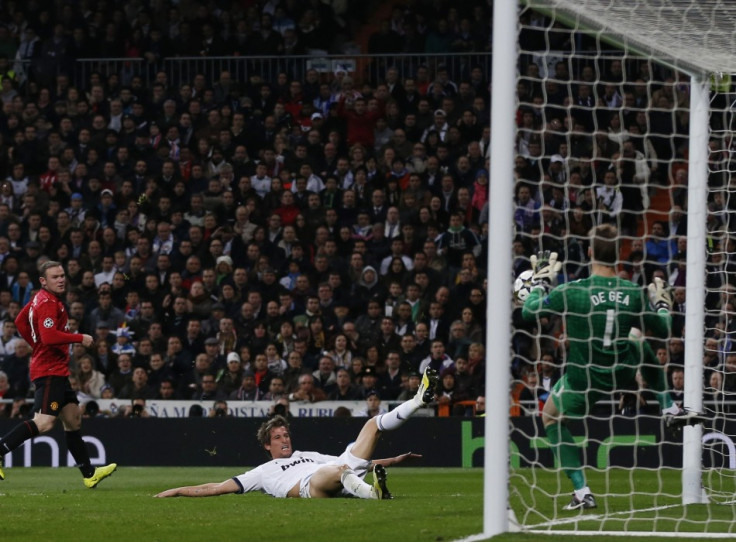 After last night's titanic tussle in the Bernabeu, the key protagonists on both sides have been giving their reaction - and both sides believe everything is still to play for.
Cristiano Ronaldo, who scored with a towering header in his first match against United since leaving Old Trafford four years ago, insisted that Madrid "have possibilities to make our mark" at Old Trafford. The Portuguese winger said: "We can get through the tie. We always take the initiative and we will go there to win."
Explaining his refusal to celebrate the goal against his former club, Ronaldo said: "Manchester United is the place in which I played six years and I arrived as a child. They hold a special place for me and I did not celebrate out of respect for people who gave me a lot."
Ronaldo's teammate, Sergio Ramos, has been widely criticised in the Spanish press for allowing Danny Welbeck to head home United's goal. The defender said he was "realistic" that he was at fault, but added that "it was not a corner. Some times the officials sometimes help you, other times they don't."
At Old Trafford, Ramos believes "the margin for error is minimal", but "if we go there with the same penalty we are convinced we can win.
"We have the mindset to go to Old Trafford and go for victory. The team is dissatisfied with the result but happy with the way we played."
Manchester United manager Sir Alex Ferguson also expressed satisfaction with his side's performance, saying: "We knew this was a difficult place to play. We wasted many opportunities, but scoring the away goal was important.
"At Old Trafford will be an open game. I am sure that we will have chances, but Real Madrid are the best team in Europe at counter-attacking."
Ferguson also said he "loved the fact" that the Real Madrid fans gave Ryan Giggs a standing ovation when he came on as a second-half substitute, and praised David De Gea, the much-maligned United goalkeeper who made a string of fine saves last night.
According to Ferguson, De Gea "has improved over the course of the season, and one of the saves in the first half tonight was excellent. I am really happy with him, he played really well."
When asked about his performance, De Gea revealed that the save he made with his legs from Fabio Coentrao's volley was pure improvisation.
He said: "I had to do everything very quickly, I moved my leg out of instinct. I had a bit of luck but I am happy with the result.
"It is a good result against Madrid away from home. But the outcome is not certain - this is Madrid we are talking about, one of the best clubs, and they are going to give it everything at Trafford. It is an important competition for them."
© Copyright IBTimes 2023. All rights reserved.