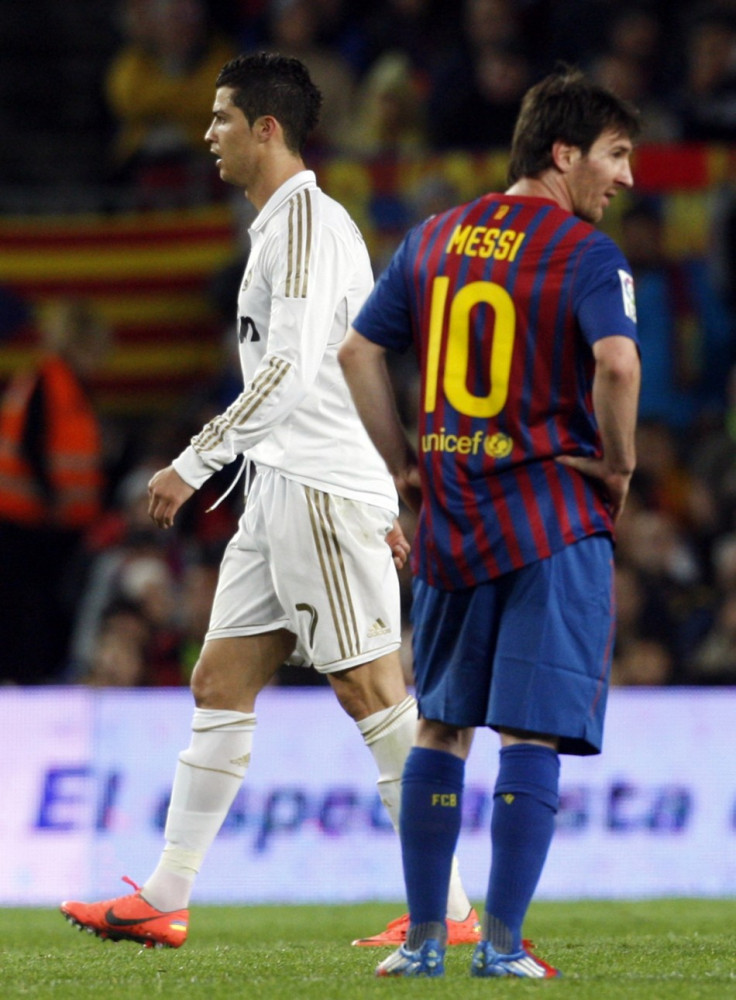 Real Madrid's Portuguese star forward Cristiano Ronaldo has dismissed claims of comparison between himself and Barcelona's Argentine ace Lionel Messi. Ronaldo has emphasised that there are too many differences between the two of them to be compared but also said he considered himself better than Messi, for the moment.
Ronaldo scored 46 league goals in the recently concluded season and was pivotal in guiding the capital club to their first league title in four years. Madrid finished nine points clear of their Catalan rivals.
"Sometimes (the comparisons with Messi) makes me tired ...for him too because they compare us together all the time. You cannot compare a Ferrari with a Porsche because it's a different engine. He does the best things for Barcelona, I do the best things for Madrid," CNN quoted the 27 year old as saying.
"I think we push each other sometimes in the competition, this is why the competition is so high. Some people say I'm better, other people say it's him, but at the end of the day, they're going to decide who is the best player. At the moment ... I think it is me," Ronaldo pointed out.
However, the Portuguese captain, who arrived at the Spanish capital from Manchester United for £80mn in 2009, refused to rule out a move away from Madrid in the near future. The forward said he was happy at the Santiago Bernabeu but may seek a new challenge after one or two seasons.
"To be honest, I do not know. In the future, nobody knows. I feel very happy here, it is a great club with fantastic fans. It is great, but in the future nobody knows. I feel happy here but it one year or two, you never know. A man's head is always complicated, but at the moment I am very happy," ESPN quoted Ronaldo as admitting.
Meanwhile, Juventus are understood to have sent a chief representative to Spain to open talks with Madrid striker Gonzalo Higuain over a possible move to Serie A in the summer, according to Goal.com. The Argentine, who scored 22 league goals last season, has been linked with a switch away from the Bernabeu amidst rumours he is unhappy at the club after falling behind French striker Karim Benzema in Madrid's pecking order. The Italian club's sporting director, Fabio Paratici, has flown to Madrid to speak with the 24 year old's father and brother. The deal could be problematic because Madrid boss Jose Mourinho is reportedly unhappy with the idea of losing Higuain and recently stated that unless a suitor matched the player's £120mn buy-out clause, the forward would not be leaving the La Liga champions.