You'd think that after filming a movie about being cooped up in a tiny shed for seven years of your life, the hardest parts of being an actor would be over. But apparently, it's tricky picking up the awards you get for said performances at ceremonies too, Brie Larson has learned, especially when you can't make the televised event, specifically, the 2016 Critics' Choice Awards...
As reported by The Hollywood Reporter, "the best actress winner, who couldn't attend the show due to filming, was denied a proxy (Room co-star Jacob Tremblay) to accept the trophy on her behalf, while DiCaprio was able to send in a taped speech for his best actor nod."
While Larson won the accolade for best actress in a leading role for her performance in Lenny Abrahamson's drama Room, she was not able to attend the official ceremony held on 17 January as she was busy filming one of her upcoming projects Kong: Skull Island in Australia. Upon hearing of her win, Larson requested that Tremblay go up on stage and deliver her appreciations in her place, however she was told that that couldn't be arranged, citing that they had to maintain the idea of not telling winners in advance and having presenters accept trophies for absentees.
It's an understandable response if you take what they say on the chin and consider that they have to keep up the illusion that actors are surprised when they receive awards. However, Larson wasn't the only one that couldn't make it on the night. Star of The Revenant DiCaprio earned himself the title of best actor during the night, and while technically his physical award was accepted by the presenter of it, Kate Beckinsale, the 41-year-old did also film his own message of thanks that was played to the audience and the cameras at the event.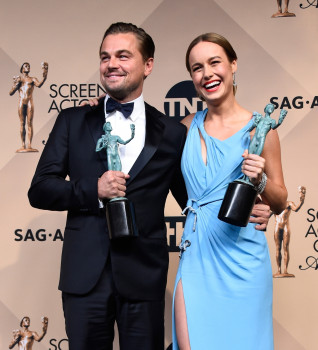 Surely having a prepared video voicing his gratitude alludes to the fact that he was told in advance, right? Similarly, when George Miller's dystopian action movie Mad Max: Fury Road picked up an award for best direction, actors from the film Rosie Huntington-Whiteley, Abbey Lee, Zoe Kravitz, Courtney Eaton and Riley Keough took to the stage on his behalf with prepared 'thanks'.
THR also wrote that Larson's representatives have not spoken out on the claims. The publication also stated that the source allegedly added that the Critics' Choice board is believed to be revisiting its policies after the news emerged.
Its long been known that certain ceremonies and award boards have power when it comes to exposing and triumphing names that they personally champion. But given the universal praise Larson has been scooping up for Room, it seems to make no sense why she wouldn't receive the same treatment as DiCaprio in this instance.
For more entertainment news follow A-List on Twitter @Alistinsider