Whilst most people are focusing on lead Leonardo DiCaprio's performance in Academy Award favourite The Revenant, some cinema-goers have pointed out another cast member that should be getting more buzz than he is currently receiving: the bear. What started as a joke however, (because many concluded that the grizzly was purely CGI) has actually turned out to be a genuine point because the bear was portrayed by a real-life someone, Canadian stuntman Glenn Ennis.
Now, it looks as if he's ready to align himself with his great work, as he's opened up about what it was like to 'frolick' in the woods with DiCaprio and just how he came to get the job. In an interview with Global News, the 51-year-old – who has been a stuntman for 15 years – detailed how the filming process was "exhausting" and how he was "the number-one bear" on set.
"They had two people from the States doing some of the rehearsing, getting the routine down. One of them had to go to the hospital for exhaustion," he replied when the publication asked how he became involved in the film. "The process is picking someone up, throwing them around, turning them, attacking them. Running on your hands and feet for 10 yards is pretty tough for a big guy. It's non-stop for a full two minutes. Once this guy was taken to the hospital, I got a call from Vancouver asking me if I could come do this."
But despite him coming aboard the project a little later than the original stuntman, he admitted that he "learned the routine quickly. They wanted authenticity, someone who moved like a bear. Maybe my acting background helped with it," he said. "Because of physical exhaustion, it was impossible for one person to do it exclusively. But I was the number-one bear.
"There was no bear ever on set, though," he laughed. "The closest a bear ever got to set (that we knew of) was at the Calgary Zoo."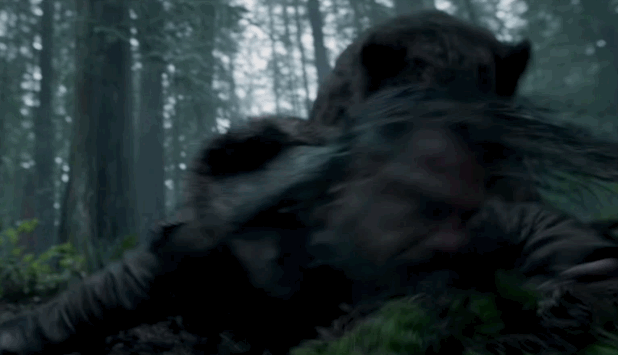 When asked about the glamour of the shoot, and how working so closely with DiCaprio would have been many people's dream, Ennis was quick to detail the reality of the situation the pair of them were in.
"I was [rolling around on the forest floor with DiCaprio for] about 20% of the time. That's the funniest thing, if you notice the bear head in the picture, they wanted the bear mouth to be right on his lower back. I was supposed to grab his jacket with my hand to make it look like the bear's jaws were pulling it.
"In order to have the bear's jaw in the small of his back, basically my face was in his butt. My face was in Leo's butt for a fair bit of time. I can see how that's someone's fantasy, but it wasn't mine!"
For more entertainment news follow A-List on Twitter @Alistinsider