Bronze Age Transport Pathway Found Along London's Newest Railway [PHOTOS]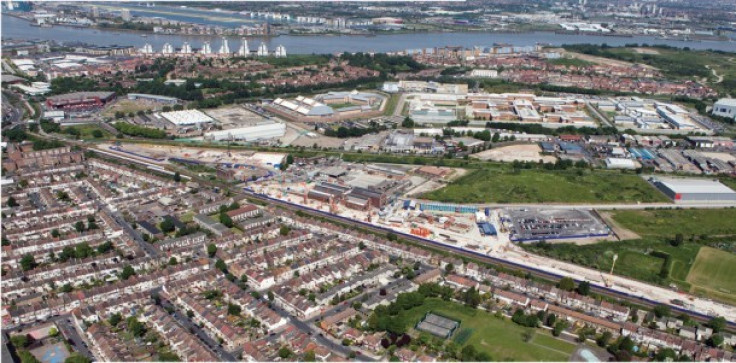 Archaeologists have excavated remains of a 3,500 year old transport route along the same pathway that Crossrail, the new 118km railway under construction in south east England, will follow.
Planned to start services in 2018, the Crossrail will pass through 37 stations connecting Maidenhead and Heathrow in the west, to Shenfield and Abbey Wood in the east. The new route will add to London's rail capacity by 10 percent, carrying about 200 million passengers annually and cutting commuting time from south east London by up to 50 percent.
The discovery was made during excavations at the Plumstead tunnel entrance in east London, where Crossrail's 2.6km long tunnels under the River Thames are to be constructed early next year. The Bronze Age finds on the Crossrail route include two wooden stakes, which archaeologists suggest may have been cut with a metal axe.
"This is a very significant find and the first Bronze Age find on the Crossrail project. We know from other sites nearby that this area was probably crisscrossed by a network of pathways. As excavation works for the Plumstead tunnel portal got underway our archaeologists uncovered several wooden stakes and at least two that appear to have cut marks from a metal axe," Crossrail's lead archaeologist Jay Carver said in a statement
The stakes further suggest that they may have been used to build a timber route; timbers were commonly used in east London to construct pathways in that era.
"A large network of timber pathways were constructed in the Bronze Age across east London. Archaeologists think that these would have allowed easier access for hunters to the rich wildlife that lived on the lush wetlands some 3,500 years ago," according to an official release by Crossrail.
The wooden stakes are just a clue to a complete route, which hass yet to be uncovered. Meanwhile archaeologist will continue excavation to find the full track way.
"Although we haven't identified an actual track way yet, the timbers are similar to those used to make the track ways and certainly show that people were in the area exploiting the woodland. This is a promising find as we continue our search for evidence of a Bronze Age transport route along where London's newest railway will run," Carver concluded.

© Copyright IBTimes 2023. All rights reserved.